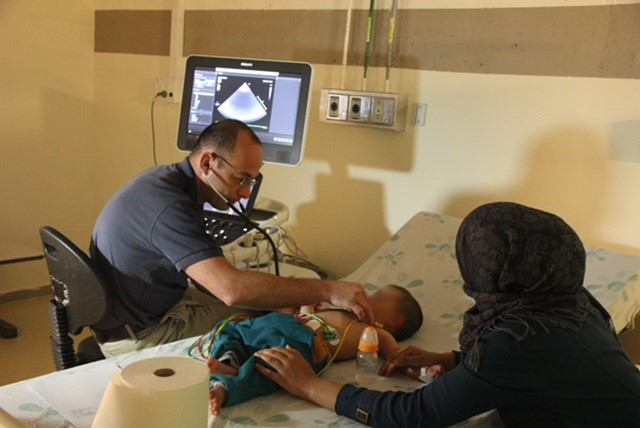 In an effort to save the lives of Syrian children suffering from life-threatening and complex heart abnormalities, the Hadassah Medical Center and the Baruch Padeh Medical Center in Poriya-Tiberias have launched a unique collaboration as part of the Israel Defense Forces' Good Neighbor program.
Hadassah Pediatric Cardiologist Dr. Julius Golender, who heads surgical evaluation at Hadassah Hospital Ein Kerem, joined doctors from Baruch Padeh and the IDF's Good Neighbor program in Tiberias, where Syrian mothers had brought their children from Syria. The doctors examined the 17 children and teenagers, ascertained what treatment, if any, they were receiving in Syria, and then determined that 14 of them could benefit from heart surgery at Hadassah.
Dr. Golender explains: "We will make an initial diagnosis and build a treatment plan for any child or teenager who needs cardiac intervention, whether catheterization or surgery, at Hadassah Hospital." The children are suffering from a wide variety of significant heart abnormalities, according to Dr. Golender,  including ventricular defects and transposition of the great arteries. Their chances of surviving without medical intervention are slim.
"Made possible by the financial support of the Peres Center for Peace, this special cooperation between Hadassah and Baruch Padeh," relates Dr. Golender, "is important and will save the lives of these children. Hadassah will make use of our Pediatric Cardiac Surgery Department and the indispensable Pediatric Intensive Care Unit for this special humanitarian project. While the children, some of whom have never been properly treated or examined, will come to Jerusalem for the complex surgery and catheterizations at Hadassah, they will receive follow-up care at the Baruch Padeh Medical Center in Tiberias."
For more details see https://m.facebook.com/story.php?story_fbid=2140976115932525&id=254884921208330
To see a Hebrew news video of the Syrian children crossing the border and being taken to Hadassah for treatment, click here.