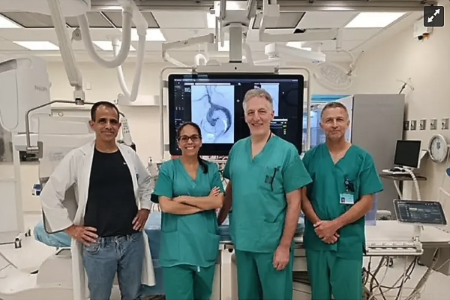 In a first for Israel, a highly trained and talented team of cardiac interventionalists at Hadassah Hospital Ein Kerem are repairing aneurysms in the aortal arch with a minimally invasive procedure that replaces more risky open-heart surgery. Not only does the surgery take less time, but the patients also recover more quickly and avoid serious complications. The doctors have successfully performed the catheterization procedure four times at Hadassah and are training physicians at other Israeli hospitals.
Hadassah Medical Organization Director General Prof. Yoram Weiss commented on the new procedure: "Today, cardiology patients receive excellent treatment here, thanks to the accelerated development of treatments, which in the past we could only dream of."
To read the Jerusalem Post story, click here.
Photo caption: The team that performed the catheterization