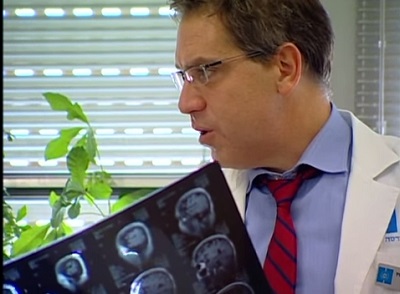 An unprecedented clinical trial launched at the Hadassah Medical Center, which will test the effectiveness of a treatment for Multiple Sclerosis (MS) involving multiple injections of enhanced stem cells directly into the cerebrospinal fluid, could bring hope to the 2.5 million patients worldwide suffering from this neurodegenerative disease.
The trial, under the direction of Prof. Dimitrios Karussis, head of Hadassah's Multiple Sclerosis Center, is a large randomized double-blind, placebo-controlled study that will eventually have 48 MS patients. While the patients in the control group will not know if they are initially getting the actual treatment or a placebo, the trial contains a crossover design so that eventually everyone will get the stem cell treatment, although some patients will receive the actual treatment six months later.
The novel concept of injecting the stem cells directly into the spinal fluid is aimed at getting the cells to circulate to the various damaged areas of the central nervous system. The injected stem cells, explains Prof. Karussis, "are at their preliminary stage of maturity,"  having the potential to renew the damaged myelin, the nerve covering that degenerates in MS, as well as to suppress the disease. "The cell renewal process," he says, "will not only prevent future MS attacks, but will also significantly improve motor and cognitive functions which were previously affected by MS, including walking, memory, and more. Preliminary results of our trial have seen wheelchair-bound patients getting back on their own two feet."
Prof. Karussis hopes to have an interim analysis of the results within one year; the study is intended to be completed at the end of 2016 or early 2017.
"This is truly a groundbreaking trial on a worldwide scale," concludes Prof. Karussis. "The various unprecedented components of the trial, including the multiple subjects, unique injection technique, and double-injection hope to pave the way to a new form of treatment for MS."