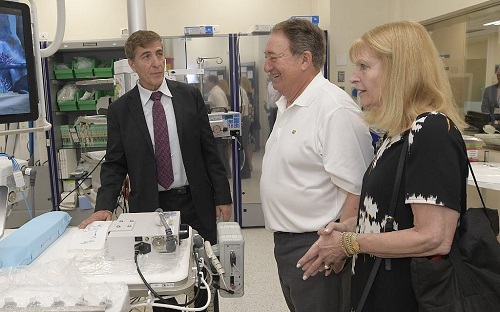 The new Irma and Paul Milstein Heart Center was dedicated at Hadassah Hospital Ein Kerem in Jerusalem on Friday, Oct 12th. The Milstein Family's generous gift provides Jerusalem with a cutting edge cardiac center with some of the most advanced features and technology available today.
Prof. Chaim Lotan, Director of the Heart Institute at the Hadassah Medical Organization (HMO), stated, "This new Heart Center, will catapult us 50 years into the future. Occupying 4,500 square meters (roughly 48,500 square feet), it is the most advanced cardiac intensive care unit in Israel and includes four of the most advanced catheterization labs in the world and another two more catheterization labs are planned. An additional catheterization lab will operate at the Hadassah Hospital on Mount Scopus, to prevent the need to transfer patients to Ein Kerem."
Occupying the entire third floor of the Sarah Wetsman Davidson Hospital Tower at Ein Kerem, the Center makes use of the world's most sophisticated cardiac technology and more than doubles the department's previous capacity to treat heart patients. The unit includes 11 intensive care private rooms plus 11 post-catherization beds and another 32 beds in the cardiac ward.
It also features giant high-resolution screens connected to the imaging equipment which display all the patient's vital data. The catheterization labs also include one room that operates a bi-plane system providing three-dimensional imaging of the heart from two cameras at the same time.
Lotan adds, "Our experts use these imagines in real time for maximum accuracy. In a hybrid room, we can switch from catheterization to open heart surgery if necessary without moving the patient and losing valuable time. The 2019 dual-camera system is among the first installed in the world. There are inner-aortal cameras and numerous other technological advances that were considered science fiction not long ago."
Hadassah Medical Organization (HMO) Director General Prof. Zeev Rotstein stated, "This comprehensive facility that can treat all types of heart disease, is a tremendous gift to the people of Israel and will insure that HMO's cardiac research and treatment will save more lives every day."
Janice Weinman, CEO of Hadassah Women's Zionist Organization of America (HWZOA), presided over the dedication and noted that, "The center brings sophisticated technology, and for the first time, enough room to teach heart professionals from around the world who have asked to learn from Hadassah's cadre of experts and innovators."
New York entrepreneur and real estate developer Howard Milstein, along with his wife Abby Sniderman Milstein, made the dedication in honor of his parents, Irma and Paul Milstein, who have long contributed to health and medicine. Their generous $10M gift enabled the establishment of the center.
In making the dedication, Milstein stated, "My father, Paul, of blessed memory, and my mother, Irma, saw Hadassah's mission statement as the highest expression of the founding ideals of the State of Israel:  to forge 'links between patients of all nationalities, races and religion who come to its doors for healing.'  Translational medicine undergirds all our commitments to medical research.  At HMO, all patients – Jewish, Christian, Muslim, Druse, secular and religious – receive dignified care from a top-flight team of equally diverse medical workers.  As such, Hadassah is a 'bridge to peace.'  Witness the Syrian children who, during a horrific humanitarian crisis, have recently been brought to HMO for treatment of congenital heart defects.  The Hebrew bible contains the word 'heart' 827 times.  What better way to celebrate this heritage than opening a heart center at Hadassah Hospital Ein Kerem, the heart of Jerusalem!"
Milstein concluded, "We couldn't be prouder of what you have done here.  On behalf of my wife Abby, our son Michael and the entire Milstein Family, thank you for honoring us in this way.  May you go from strength to strength."
The Milsteins were joined for the ceremony by numerous dignitaries from both the US and Israel. These included Ellen Hershkin, President of HWZOA; Janice Weinman, HWZOA Executive Director/CEO; Prof. Zeev Rotstein, current Director General of HMO; and Yaakov Litzman, Israel Deputy Minister of Health. Also, in attendance were several former HMO Director Generals and HWZOA National Past Presidents, along with a large delegation of American Hadassah supporters and Israeli health leaders.
Top Photo : Prof. Chaim Lotan, Director of the Heart Institute explains some of the state-of-the art technology in the new Heart Center to Howard Milstein, who represented the Milstein Family, and Ellen Hershkin, President of Hadassah, the Women's Zionist Organization of America.