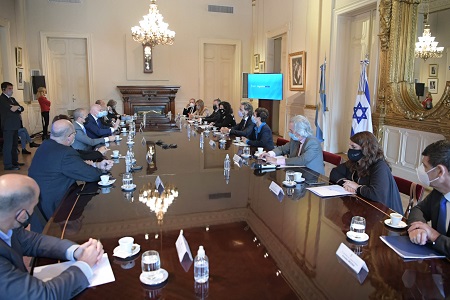 The Hadassah Medical Organization mission that traveled to Argentina to share its expertise in battling COVID-19 and to discuss implementing a clinical trial with Brilife, the Israeli-developed vaccine, is the first medical delegation to be received at the Casa Rosada, (the equivalent of the US White House) for a high-level meeting with Argentina's top government officials.
The Hadassah representatives were warmly welcomed by Chief of the Cabinet of Ministers Santiago Cafiero, Minister of Health Carla Vizzotti, Argentina's Ambassador to Israel Sergio Urribarri, and Cecilia Nicolini, adviser to Argentina's President Alberto Fernández, as well as many other top government leaders.
The government officials reiterated their recognition of Hadassah Hospital's excellent work and their commitment to working with Hadassah. Minister Vizzotti noted, "This visit is not only important to professionals. What is especially important is how Hadassah communicates hope to the people of Argentina by coming to our country."
Prof. Yoram Weiss, director of Hadassah Hospital Ein Kerem and head of the Hadassah medical delegation responded, "We did not come to teach but to share experiences with each other. We want to help Argentina emerge from this COVID-19 crisis. Israel was in this situation just a few months ago, and now we can see the light at the end of the tunnel."
The Argentinian leadership and the Hadassah delegates discussed plans for implementing the goals of the Hadassah mission and worked together to find practical ways to do so. This included implementing the phase III trial of the Israel Brilife COVID-19 vaccine, industrial production of this vaccine in Argentina, as well as treatments developed in Israel for COVID-19, such as Allocetra, and sharing Hadassah's medical expertise and experience with the government and leading hospitals.
Jorge Diener, executive director of Hadassah International and the co-leader of the mission, explained that by coming to Argentina, "Hadassah is bringing the full meaning of hope." He explained, "Ours is an act of faith and action. That is what the professionals from Hadassah Hospital are doing this week."
Mr. Diener was then interviewed by the press.
To read more about the mission, see http://hadassahinternational.org/hadassahs-covid-19-mission-arrives-in-argentina/
Watch here an interview in Spanish with the Argentinian Minister of Health: "Discussion advance to test and manufacture Israel's coronavirus vaccine in Argentina"
Picture captions: The Chief of Cabinet, Santiago Cafiero, participates in a meeting with experts from Israel, together with the Minister of Health, Carla Vizzotti; the Argentine ambassador to Israel, Sergio Urribarri and the presidential advisor, Cecilia Nicolini. City of Buenos Aires Monday, May 10, 2021. Photo: Irina Sanchez, press chief of the Cabinet of Ministers.