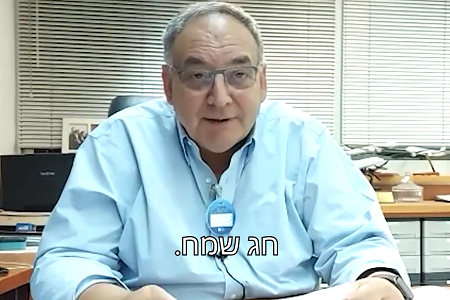 In a letter to Hadassah Medical Organization health care staff, Director General Prof. Zeev Rotstein shared the good news that Hadassah's medical teams have had success in weaning a number of coronavirus patients from respirators. He also noted that plans are in place to open an additional COVID-19 unit this week, in addition to those already operating on three floors of the Round Building, totally separate from the rest of the hospital.
At the same time, Prof. Rotstein expressed his concern that several Jerusalem neighborhoods still have high COVID-19 numbers. In a bid to contain the epidemic, he reported, Jerusalem police officers and soldiers have set up roadblocks to prevent residents from exiting those areas.
Prof. Rotstein related that testing all Hadassah health care workers for COVID-19 at five-day intervals, now given its blessing by the Israeli Health Ministry, will continue to ensure they are COVID19-free. Of 38 Hadassah health care workers who tested positive, 10 have recovered and are returning to work. Two tests confirmed their good health.
Expressing his understanding that, for his staff, it is almost impossible to enjoy this usually festive Passover, Prof. Rotstein noted, "We bless our dear staff with time for joy, and united we pray that we leave this slavery to the coronavirus for freedom from viruses and epidemics."