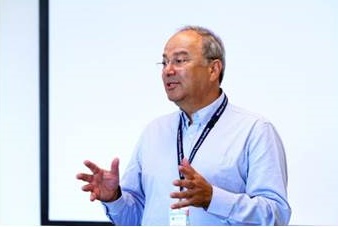 Prof. Eitan Kerem, Director of Pediatrics at the Hadassah Hospital welcomed the Jewish News Agency, Agencia Judia de Noticias (AJN), to the Hadassah Center for Children with Chronic Diseases at the Hospital on Mount Scopus.
Dr. Kerem explained "We opened a center for children with chronic diseases that is unique in the world. It allows children to receive all the treatment they need all in one place, and then return home, which is the best place for them to be. We also have a bilingual school (for children who are hospitalized for a long time).
"We have doctors who come from Ramallah, Hebron and the Gaza Strip who work together with us to serve Arabs and Jews. They have become friends and colleagues, and working together to treat everyone is part of the everyday life at Hadassah".
Within the climate of instability in the Middle East, the director of Pediatrics at Hadassah is "proud of the air of peace that is in the hospital." He added "I was recently in Santiago, Chile, to give a lecture. People in the audience wept with emotion when I told what was happening here in Israel. They thought that we spend all day hating one another in Jerusalem."
"The Hospital is a center of excellence. It is excellent in teaching, is excellent in research and we are involved with innovation and creativity. In Pediatrics we do research on many diseases such as cystic fibrosis, infant lung disease, genetic abnormalities, as well as endocrine disease, cardiology, and oncology. We are leaders in Cystic Fibrosis research, "he said.
Asked why he chose Pediatrics, Prof. Kerem said "The innocence of the children who have a disease is very special, and the parents are very concerned about their children."
To read the original Spanish interview with Prof. Kerem in Iton Gadol, please go to
http://www.itongadol.com.ar/noticias/val/98053/hadassah-director-de-pediatria-%E2%80%9Ctenemos-medicos-que-vienen-de-ramallah-hebron-y-gaza-que-trabajan-con-nosotros.html