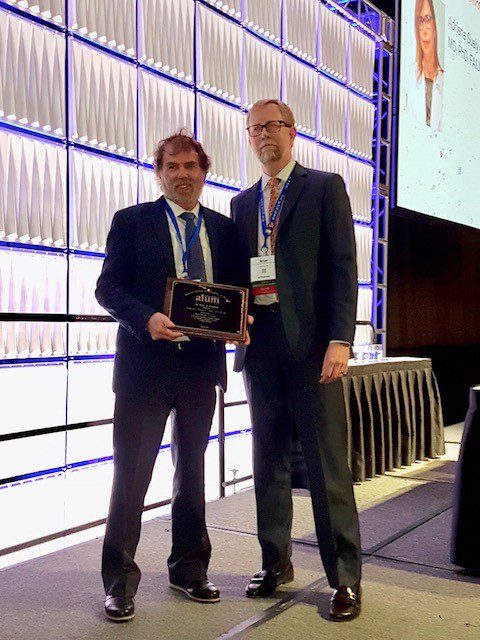 Photo: Prof. Yagel & AIUM President Brian Cooley.
In recognition of his significant contribution to ultrasound science, Prof. Simcha Yagel, head of the Hadassah Medical Center's Division of Obstetrics and Gynecology, has been named an Honorary Fellow of The American Institute of Ultrasound in Medicine (AIUM).
AIUM is a multidisciplinary medical association of more than 9,000 physicians, sonographers, scientists, students, and other health care providers. Established more than 50 years ago, the AIUM is dedicated to advancing the safe and effective use of ultrasound in medicine, through professional and public education, research, development of guidelines, and accreditation.
"It's a great honor to receive recognition from such an impressive international organization as the AIUM," comments Prof. Yagel. "I'm proud of the childbirth division at Jerusalem's largest hospital, which has as a central focus the education of future Israeli doctors. I'm grateful for this honor, which shows that Jerusalem and Hadassah can step forward on the world stage."
Prof. Yagel, who heads Hadassah's Ultrasound Unit within the Obstetrics and Gynecology Department, established and served as director of this unit from its beginnings in 1992. Prof. Yagel joined the Hadassah Hospital Mount Scopus staff in 1980 as a young resident, following his service in the Israel Defense Forces as a physician. He has spent his entire career at Hadassah, other than completing postdoc fellowships at the University of California, San Francisco, and the University of Western Ontario and University of Toronto in Canada.
In 1994, Prof. Yagel founded the Obstetrics and Gynecology Research Laboratory, recently renamed the Magda and Richard Hoffman Center for Placenta Research. A founding member of the Israel Society of Ultrasound in Obstetrics and Gynecology, he served as its president from 1999 to 2002. The Society, whose mission to establish medical standards for Israel, contributes widely to the advancement of women's imaging internationally.
In 2009, Prof. Yagel, together with his research colleagues, founded the Israel Society for Placenta Research and served as its first president until 2014. Having published more than 300 basic and clinical research articles in leading peer-reviewed journals, his most influential papers are those that introduced the three-vessel and trachea view and the five-plane approach in fetal echocardiography. This approach has been adopted by many professional organizations, including the AIUM and the International Society of Ultrasound in Obstetrics and Gynecology, as well as by practitioners in South America and the Far East.
Prof. Yagel's seminal work on the natural history and in utero development of fetal cardiac anomalies changed the conversation surrounding prenatal diagnosis of congenital heart defects by showing that anomalies evolve throughout the course of gestation and may not be amenable to diagnosis during the first or second trimester scan or even into infancy. Prof. Yagel's current clinical research is exploring 3D and 4D ultrasound of the fetal cardiovascular system, as well as 3D ultrasound of the female pelvic floor, including the changes observed during childbirth and in the context of pelvic floor dysfunction later in life.
Prof. Yagel is a lead editor of the textbook, Fetal Cardiology: Embryology, Genetics, Physiology, Echocardiographic Evaluation, Diagnosis and Perinatal Management of Cardiac Diseases, first published in 2002, with a third edition to be issued this year.
"Prof. Yagel," comments Hadassah Director General Prof. Ze'ev Rotstein, "is among our leaders who has advanced the Gynecological and Obstetrics Department at Hadassah to new heights of international standards in both innovative treatment and broad research. We are proud of Prof. Yagel's achievements, which have contributed to the hospital and, in particular, have helped so many women in different aspects of medical treatment."