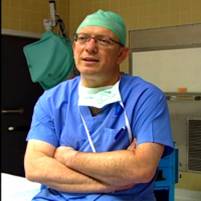 The American Academy of Orthopedic Surgeons' 2011 Conference in San Diego, California, this February featured nine doctors from Israel, including Prof. Meir Leibergall, Director of the Hadassah Medical Center's Department of Orthopedic Surgery, who presented his study findings on how to reduce healing time for distal tibia fractures by half. The study, supported by funds from Young Hadassah International's 2006 Advanced Trauma Treatment Campaign, used pioneering stem cell technology to devise this minimally invasive intervention.
Prof. Leibergall reported that patients with slow-healing distal tibial fractures were able to heal faster when they were injected with purified, autologous mesenchymal stem cells (MSCs) along with platelet-rich plasma. The study of 24 consecutive patients proved the safety and efficacy of the treatment. Prof. Leibergall and his team at Hadassah Hospital-Ein Kerem monitored patients who had undergone surgery for distal tibia fractures, a fracture that traditionally has a high rate of non-union. After their surgery, half of those patients were chosen at random for early intervention treatment. Composite grafts of purified MSCs and platelet-rich plasma were subsequently implanted into their fracture site one month after their surgery. Of the patients who underwent intervention, the average time to union was 71 days, compared with 130 days in the control group. Prof. Leibergall explained that while the technique is not yet approved by the Food and Drug Administration, the results are promising for the future management of fracture care, reducing morbidity, and shortening incapacity time.
The American Academy of Orthopedic Surgeons' conference is the largest and most prestigious orthopedic conference in the world.