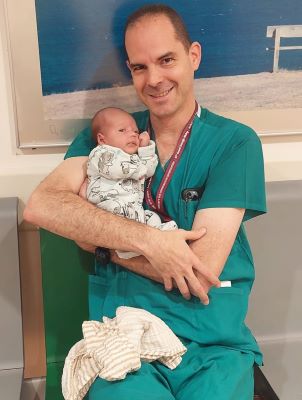 Three and a half years ago, Chen Nistafov, then 25, joyfully became pregnant for the first time. She was young and healthy and everything looked fine. Chen and her husband were happily anticipating parenthood when, at 25 weeks, she went into labor and lost the baby. Her pain and grief were partly ameliorated when she became pregnant again. But this time, despite being followed in a local health clinic, at 24 weeks she again went into labor. She was rushed to Hadassah Hospital, where she gave birth by emergency cesarean section.
"This is how our angel Ariel was born," says Nistafov.
When babies are born this early, their heart, lungs, brain, and other organs are very immature and not ready to support life outside the uterus. For eight months, Ariel underwent life-saving surgeries and received care in the Neonatal Intensive Care Unit (NICU). Today, she is still receiving treatment in a rehabilitation facility.
"After a while, my husband and I decided to discuss the option of another pregnancy, already knowing the dangers involved," says Nistafov.
By then she'd heard of Dr. Doron Kabiri, a Hadassah obstetrician and a specialist in maternal-fetal medicine who honed his knowledge and skills in that specialty during a fellowship in the Perinatology Research Branch of the NICHD/NIH in the US, working with the maternal-fetal world expert Dr. Roberto Romero.
After a long consultation, Dr. Kabiri explained the risks for her and the baby and what she'd have to do to complete a future pregnancy.
"He promised to be there 'step by step,' but I have to say it was also hand in hand," says Nistafov. "In my fifth month, I was hospitalized in the calmest and safest place possible, the Hadassah Ein Kerem Gynecology and Obstetrics Department."
Then came the long-awaited day of delivery. Dr. Noa Ofek-Shlomai, the neonatologist who helped save Ariel, joined Dr. Kabiri for the birth. At 38 weeks, a perfect little boy they named Beiri, Hebrew for "my well/source of water," let out a healthy cry in the Hadassah delivery room.
Says Dr. Kabiri, "What a joyous day that was! Chen is undoubtedly a miracle of our Obstetrics and Gynecology Department. We all got to love her. We feel like parents or grandparents of Beiri, who could not have been born without the expertise at Hadassah. Today, difficult stories like Chen's can indeed have happy endings with intense and specialized prenatal care."