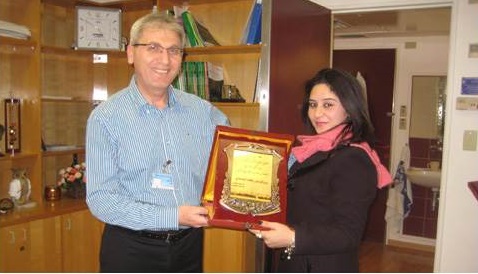 Sara Qassriwy, 18, from Bethlehem was out running when she suddenly collapsed. Palestinian doctors couldn't stabilize her and transferred her to Hadassah. She was in critical condition. Her liver and kidneys were shutting down. An emergency liver transplant was scheduled, but the multidisciplinary team at Hadassah managed to save her without surgery.
Sara was a healthy and healthy student at Al Quds University in Jerusalem.  While taking a course in Jericho, she went out for a run. She had already run 4 kilometers (2.5 miles) when she fell down unconscious and dehydrated. She was first treated for severe heat stroke in Jericho, but when she didn't respond, an ambulance brought her to Hadassah Ein Kerem.
At Hadassah, Sara was diagnosed as having multiple organ failure. "Because she had heat stroke, we thought there was a chance for her liver to begin functioning if we used our Molecular Adsorbent Recirculating System (MARS), a detoxification system used as an artificial liver support system. At the same time, we prepared for transplantation. She would need a transplant from a living organ. Finding a suitable match quickly is even more complicated than usual when a patient comes from the Palestinian Authority," said Dr. Sigal Sviri-Saroussi, head of the internal medicine intensive care unit.
Hadassah had received a MARS as a donation several years ago, and Hadassah's head of Gastroenterology and Liver Diseases Institute Ran Oren was one of the first doctors in the world to pioneer the use of this machine.
The Hadassah team—which included Professor Rifaat Safadi, head of the liver unit and Professor Michal Dranitzki Elhalel, head of the nephrology department managed to treat Sara using the MARS until she began to show signs of recovery. She remained in the ICU for three weeks.
Said her father Osama Qassriwy "I want to thank Hadassah in the name of our large family for giving us back Sara. You are angels."
Sara herself is also thankful.  "I was told I'd probably need physical therapy, but I refused. I'm going to get up and go." She'll be returning to Al Kuds University where she's studying Business Administration, but now she wants a career change. "Before I collapsed, I wanted to be a detective, but now I want to be a nurse. The nurses who took care of me are angels. I want to save lives. Arabs and Jews are all human beings, and I don't differentiate. I want to save them all."
Please see the article in Ma'ariv in Hebrew. http://www.maariv.co.il/lifestyle/health/Article-531769
Photo above: SaraQassriwy presenting Prof. Rifaat Safadi with a thank-you plaque.