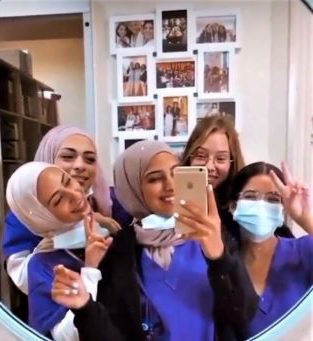 Until recently, few young Arab-Israeli citizens volunteered for National Service like their Jewish counterparts. Hadassah is helping to change that.
For the past three years, Hadassah Medical Organization (HMO) has offered a program tailored to young Arab men and women, ages 17 to 23, who want to volunteer. The program has been so successful that volunteers who may live far from the hospital, even on the other side of a border checkpoint, come daily.
"Many of the Arab volunteers don't speak Hebrew and may have poor English," says Program Coordinator Raneem Atieh. "They get language courses and guidance on the different cultural lifestyles they'll experience at the hospital."
"The language and cultural classes are a boon," says Safaa Qnebi, 21, who volunteered for the program. "Rather than teaching the aleph-bet, lessons focus on conversational and professional Hebrew," she says.
Qnebi began volunteering at Hadassah Hospital Ein Kerem in August 2021, in the midst of the COVID-19 pandemic. Among the innovations of HMO during the pandemic was the hospital's willingness to let loved ones enter the COVID wards once they had donned protective clothing and were briefed.
"I'd bring in the worried family members," says Qnebi. "I was a little scared in the beginning, but I was empowered by my ability to help. Still, it was the first time I'd seen seriously ill patients."
For volunteers like Qnebi, the hospital offers psychological and emotional support when necessary.
Later, Qnebi worked in the labor rooms alongside Hadassah midwives. She often acted as an interpreter for Arab moms-to-be with no Hebrew.
"Through the two years, my personality changed," says Qnebi. "I became stronger and more self-confident. I found new friends from all walks of life. It was an incredible experience. Some Arabs don't understand National Service and say things like 'you're helping the Jews and you're probably not learning anything.' It's so far from reality. Throughout my volunteer period, I began dreaming of working at Hadassah in the future."
That dream has now become a reality. Qnebi is currently a research coordinator in the Multiple Sclerosis Department. Simultaneously, she's preparing to take the entrance exams for the Henrietta Szold Hadassah-Hebrew University School of Nursing.
Volunteer Coordinator Talia Hirshman praises the extraordinary program, which incorporates the significance of National Service with personal development: "We're all learning from each other. This is just the beginning."