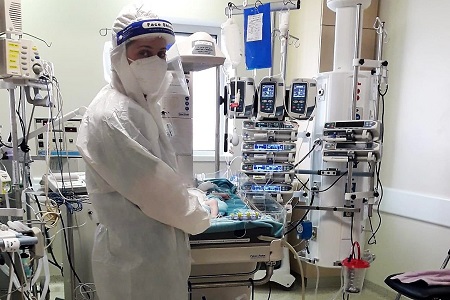 On Friday morning, four children in serious condition were hospitalized in the newly created Outbreak PICU, near but totally separate from the Metta Cohen Family Pediatric Intensive Care Unit (PICU) in the Sarah Wetsman Davidson Hospital Tower. The unit has eight beds, four of which have already been filled with sick children.
Dr. Uri Pollak the director of PICU said "We had to open an infant and children's coronavirus Intensive Care Unit with experts in intensive care taking care of these sick babies and children. Three of the babies are on ventilators because of serious lung problems."
Two of the children have other chronic diseases. A 2-year-old and a 6-year-old are in serious condition. A 13 day old is stable. A 9-month-old previously healthy baby is in serious condition.
In recent weeks, Israel has seen a spike in babies and young children becoming infected with the virus, as well as pregnant women. When these women develop serious cases of COVID-19, their babies are often delivered prematurely via emergency C-section, in order to allow full treatment of the mother. The babies generally do not have the virus, but they often require treatment in a pediatric ICU.
Head Nurse Sonya Sharabi describes the challenges to the staff and to the parents who want to be by the bedside of their sick children but have worried children at home. "Just now I got off a video chat with the family including all 6 siblings of one of the babies. We need to continue our professional work following every breath of every child while doing what we can to support the families. Some of our nurses have been drafted to help in the adult Outbreak Departments because of their expertise in intensive care. Those who have remained now need to divide their efforts between the regular PICU and the Outbreak PICU. They are doing sacred work."
The Pediatric Intensive Care Unit at Hadassah Ein Kerem was made possible through a generous donation from the Alianza Monte Sinai Jewish Community from Mexico City and Keren Hayesod (United Israel Appeal) from Mexico City, Mexico. Find out more about the dedication of the Metta Cohen Family Pediatric Intensive Care Unit (PICU) here.
Read related articles in The Jerusalem Post and The Times of Israel