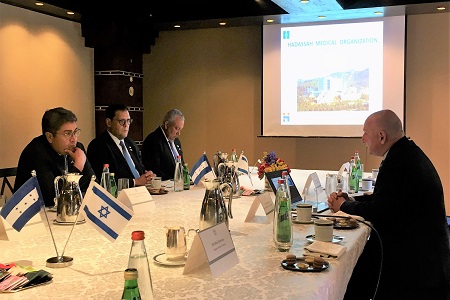 On June 24, Prof. Yoram Weiss, director of Hadassah Hospital Ein Kerem, and Hadassah International Latin American Project Manager Jeanne Vachon-Flores met with a delegation from Honduras, led by its president, Juan Orlando Hernández.
The visit was an outgrowth of the creation earlier this year of the Hadassah Health Latin American (LATAM) Ambassadors Forum, facilitated by Hadassah International; the May Hadassah Medical Organization's humanitarian mission to Argentina, aimed at sharing experiences in treating COVID-19 and discussing the potential of initiating a clinical trial in Argentina of the COVID-19 vaccine developed in Israel; as well as the zoom meeting between Hadassah Ein Kerem staff and representatives of the LATAM health ministries, which focused on the pandemic.
President Hernández had traveled to Israel to inaugurate the Honduran Embassy in Jerusalem and to consolidate ties and cooperative ventures between Honduras and Israel. Israel's Ministry of Health and the Government of Honduras had invited the representatives of Hadassah Hospital and Hadassah International to meet with the Honduran delegation. Prof. Weiss was asked to give a presentation about Israel and Hadassah's experience with the COVID-19 pandemic.
During the meeting, the participants also discussed the possibility of Honduran physicians doing their residencies at Hadassah, as well as the options for sharing Hadassah medical experiences with medical institutions in Honduras. Plans are to develop these partnerships further in the coming months.
Caption for Photo:
Left to right: Honduran President Juan Orlando Hernández, Honduran Minister of Foreign Affairs Lisandro Rosales, Honduran Ambassador to Israel Mario Castillo and Hadassah Hospital Ein Kerem director Prof. Yoram Weiss