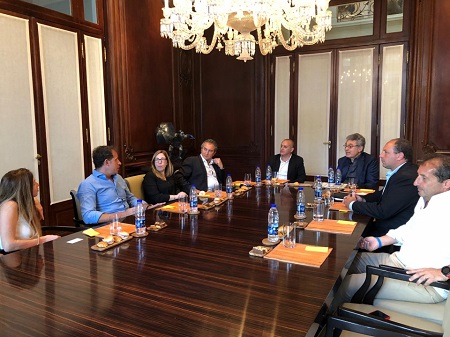 Jorge Diener, Hadassah's International Projects Director, in an interview with the AJN publication Iton Gadol, confirmed that the Hadassah Hospital is developing a plan to "improve the health level of the Argentine population" that will start in 2019.
Diener, who was born in Argentina, was in Buenos Aires to advance the formation of a group of local leaders for the Hadassah Committee in Argentina under the leadership of Fabián Melamed, President of Hadassah Argentina. The group plans to bring innovative collaboration models to provide the know-how, innovation and humanism of Hadassah that will benefit health in Argentina.
The Hadassah International Projects Director stated" We have two projects that we are working on. The first will bring Hadassah doctors to Argentina for a health-related conference in the coming year. The second is to plan for the Global Hadassah Innovation Forum to be held in Brazil in 2019 under the chairmanship of Dr. Hugo Sigman, founder and CEO of Grupo Insud, (an Argentinian business conglomerate), which will involve entrepreneurs connected to health around the world. This global innovation forum reflects Hadassah's role as an innovator in health therapy, in medical innovation, in healing for humanity. Topics that have to do with everything from advanced robotic surgery to innovative therapies against cancer."
"We have held very serious conversations so that next year Argentina and its Jewish community will feel the impact of an institution like Hadassah coming from Israel to help Argentina. It will not happen because Hadassah knows everything, but rather because Hadassah can create a synergy with what it can contribute at the level of public health.
While this process has to do with "the favorable view of Israel" in Latin America in recent years, this Hadassah project in Argentina is also related to Hadassah's ongoing outreach around the world."
Diener explained "Hadassah is a place where new opportunities are generated all the time. In Israel, with the continuous population growth, we provide health care to 30 percent of the population. Furthermore, Hadassah serves most of the patients with highly complex medical problems from around the country. Israel is tiny, but the Hadassah doctors are encouraged to be scientists who do research all the time."
Diener noted that "in the case of Latin America, where the needs in social medicine are so great, to be able to bring Hadassah's experience as a hospital that serves all populations, the poor and most vulnerable sectors of Israel, is very important. "
"Hadassah can offer its experience of administering a model of assistance for large numbers of people, many of them with low resource, says Diener. "We are not talking about two or three people, but of over one million patients each year who are treated in the Hadassah Hospitals in Jerusalem. They receive medical care of the highest level possible."
"The Hadassah model aims to innovate not only in medical research, in specific diseases, but also in providing public health in a way that reaches the whole world– not only in theory, but in reality."
Asked about the relationship within the hospital, between Israeli and Palestinian patients, Diener defined Hadassah as "an ecumenical space" in which "patients, doctors, medical nurses and cleaning staff leave their documents at the door, because it does not matter if they live in Tel Aviv or in Ramallah — nobody knows. When they enter the hospital, everyone is the same. "
"We have hundreds of non-Jewish doctors from around the world who study and practice in Hadassah and then take that knowledge back to their countries. For us, as Zionist Jews, to have ambassadors who tell the story of Israel from their own experience of Hadassah, of coexistence of all religions, of people from all over the world, is an incredible value, " he emphasized. He added: "As Jews we defend ourselves, but when it is a non-Jew telling the story, it is something else– it is very important".
Diener indicated that "in the past, Hadassah and other traditional Israeli institutions came to Argentina and other countries of the world to ask for help to grow in Israel."
"Today our activity has been reformulated and we are talking not only about being able to generate the development aid that Hadassah receives from donors who value the work of Hadassah, but we see it as a double track where Hadassah brings added value to the populations in those countries where we have a presence," concluded the Director.
To see the original article in Spanish, please go to
http://www.itongadol.com.ar/noticias/val/113147/hadassah-desembarca-en-la-argentina-para-para-%E2%80%9Cmejorar-el-nivel-de-salud-de-su-poblacion.html
The Hadassah Argentina Board of Directors: