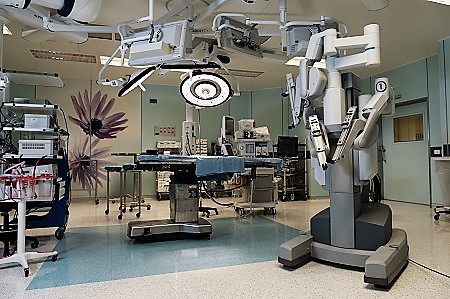 One patient slips on a wet sidewalk. Another reports persistent low back pain from long-distance running. A third experiences complications from a car accident, and a fourth lands badly while paragliding.
Often, the cause is a fractured sacral bone. Located right above the tail bone, it is a   triangular-shaped bone comprised of five segments fused together.
In an article published recently in OTA International, the journal of the Orthopedic Trauma Association, Hadassah Medical Center doctors documented for the first time the advantages of fixing sacral fractures by using two robots to implant the screws.
On April 23, 2017, Hadassah's orthopedic specialists performed the world's first-of-its-kind dual robotic surgery to repair a severe spinal fracture.
In their sacral fracture pilot study that is highlighted in the OTA International article, Hadassah orthopedic specialists Prof. Iri Liebergall, Prof. Rami Mosheiff, Dr. Yoram Weil, and Dr. Josh Schroeder used robotic targeting, together with advanced three-dimensional imaging systems, to achieve stable fixation of unstable sacral fractures. The study revealed that they successfully increased the precision of screw placement while reducing the risks of nerve damage.
The 14 patients in the pilot study ranged in age from 17 to 84. The number of screws implanted ranged from 1 to 14 per patient. All the fractures healed, with no hardware failure.
Elderly people can fracture the sacral bone during a simple fall. Or the bone can fracture as one of a host of injuries sustained during a car crash. Complicating the task of repairing the sacrum fracture is the fact that the sacrum contains many nerves, some that control bladder and bowel functions and others that control lower-leg muscles. Because of the narrowness of the nerve-free "safe zone," in a third of surgeries to fix the sacral fracture, the screw placement is less than perfect, and the patient is at risk of sustaining neurological damage. In the Hadassah study, all the hardware was successfully placed, thereby avoiding neurological damage in all of the patients.
To accomplish this successful repair, the surgeons use the Israeli-made Renaissance robot, designed by Mazor Robotics, to insert the screws, in combination with the German Artees Zygo robotic imaging system, which produces CT-like images during the procedure. Once the surgeon repositions the sections of bone that have been displaced by the fracture, the Zygo robot provides a new image that facilitates the precision placement of the screws by the Renaissance robot.
As Dr. Weil explains, "Robotic-assisted fixation of sacral fractures is a safe and reproducible method, which allows precise and accurate placement. We expect to see centers around the world following our lead."