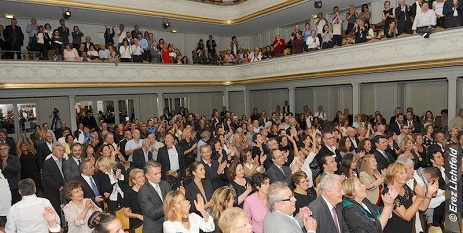 Hadassah France hosted its gala evenings on the 6th and 7th of October in Nice and Paris, respectively, at the Plaza Hotel and the prestigious Salle Gaveau to benefit Research on Cancer and Neurodegenerative Diseases at the Hadassah Medical Center.
Over 900 people came to listen to the famous Israeli troupe Soul Messengers, who interpreted the best of the classic soul and Motown repertoire, while incorporating Israeli music.
During his presentation, Dr. Sydney Ohana, President of Hadassah France, shared news from the Hadassah Hospital including the latest advances in research.
The enthusiastic audiences actively participated in these memorable events: the entire room stood and cheered, sang and danced with the troupe.
Following the evening, Hadassah France received many additional donations and expressions of support from the many new friends of Hadassah.