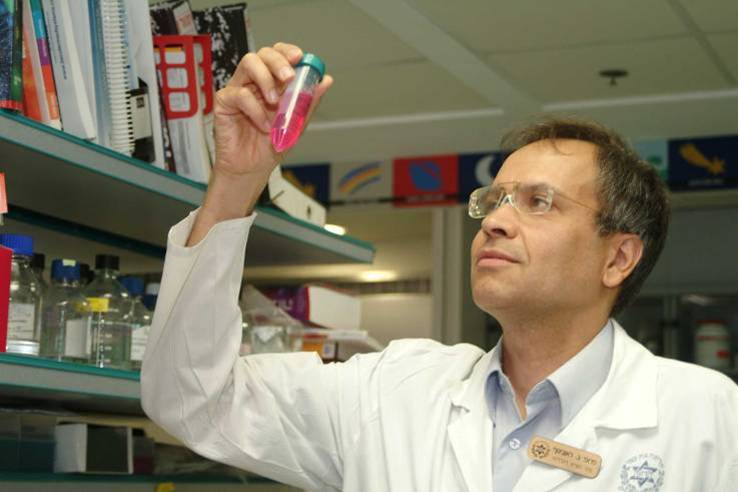 Hadassah's Cell Cure Neurosciences Ltd. has entered into an exclusive license option agreement with Teva Pharmaceutical Industries to develop and commercialize OpRegen™, Hadassah's stem-cell product for the treatment of Age-related Macular Degeneration (AMD). Cell Cure is a subsidiary of Hadasit Bio Holdings, the Hadassah Medical Center's technology transfer company, and BioTime, Inc.
OpRegen™, the creation of Prof. Benjamin Reubinoff, head of Hadassah's Human Embryonic Stem Cell Research Center, and Prof. Eyal Banin, Director of Hadassah's Center for Retinal and Macular Degeneration, is  comprised of retinal pigment epithelial cells (RPEs) derived from embryonic stem cells. It offers hope to save the sight of millions of people afflicted with AMD, the leading cause of blindness in adults over 50.
Hadassah's team discovered that Nicotinamide (vitamin B3 and niacin) and Activin A will augment and direct the differentiation of human embryonic stem cells into retinal pigment epithelium cells (RPEs). When transplanted into the eyes of rats that have retinal degeneration, these RPEs can delay deterioration of the retinal structure and function. The epithelial cells lie between the retinal visual cells which absorb and react to light and the nourishing blood vessels in the back of the eye.  RPEs provide essential support for those visual cells and are critical for normal vision.
"We are happy and proud to see the company, which was established on the basis of technology developed at Hadassah Medical Organization, develop and grow to the point where it can aggressively advance its lead product into the clinic, with the support of the ultimate partners in the field," comments Hadasit Bio Holdings Ltd. Chief Executive Officer Ofir Shahaf.
The ongoing development of OpRegen™ is funded through equity investments by BioTime, Teva, and Hadasit Bio Holdings. The funds will enable Cell Cure to further develop OpRegen™ as well as stem cell-based therapies for neural degenerative disorders.