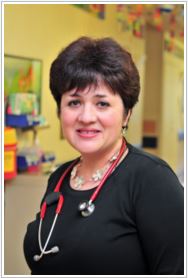 Photo above: Dr. Polina Stepensky
The January 2015 article which describes the Hadassah Medical Center's discovery and cure of a rare genetic blood disease which appeared in Blood, the journal of the American Society of Hematology, has been chosen by the journal as one of ten outstanding publications for 2015.
The articles are selected based on the quality of the work, interest to the field of hematology, the number of citations, and how often the paper was accessed.
In this Hadassah article entitled "Early-Onset Evans Syndrome, Immunodeficiency and Premature Immunosenescence Associated with Tripeptidyl-Peptidase II Deficiency," Dr. Paulina Stepensky, Bone Marrow Specialist and Senior Physician in Hemato-Oncology, along with her colleagues at Hadassah and in Germany, describe a potentially fatal protein deficiency which leads to immune system problems and a variable propensity toward viral infection.
As they reveal, it is the deficiency of this TPP2 molecule that leads T and B immune system cells to deteriorate prematurely (immunosenescence) and for the patient's immune system to attack itself (autoimmunity). As the authors state, "TPP2 deficiency is the first primary immunodeficiency linking premature immunosenescence to severe autoimmunity."
The medical scenario began when Hadassah's physicians encountered the case of a 21-month-old Palestinian boy with early-onset Evans syndrome (autoimmune anemia), viral infections, and progressive leukopenia (reduction in white blood cells). An older sibling, a girl, had been followed in another hospital from the age of 18 months when she presented with white blood cell loss and anemia. She was treated with intravenous immunoglobulin and steroids, but became increasingly unresponsive to therapy at the age of 33 months. At 37 months, she passed away.
Through gene sequencing, Dr. Stepensky, along with Prof. Orly Elpeleg, head of Hadassah's Department of Genetic and Metabolic Diseases, identified the damaged gene that led to the TPP2 deficiency. With the help of German researchers, the physicians were able to characterize the mechanism of the disease and the way TPP2 is involved in the proper functioning of the immune system. As Dr. Stepensky explains, "We actually discovered a new mechanism of the immune system, a previously unknown path that leads to premature aging of the immune system, which both allows us to diagnose this disease and will also help us better understand the whole system."
The boy underwent a stem cell transplant at Hadassah, with donor cells from a healthy sibling. In October 2014, six months after the transplant, his physicians reported that "the child remains well with no infectious, autoimmune or lymphoproliferative manifestations. He is no longer prescribed any immunosuppressive medication. Thus, at this early time point, the clinical features that led to the decision to transplant have resolved."
The physicians conclude that "the determination of senescent T and B cells should be part of the diagnostic evaluation of any child with refractory multilineage cytopenias (reduction in blood cells)."