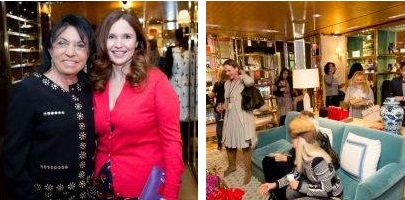 Billed as "Happy Valentine: Shopping, Surprise and Charity", the star New York Designer Tory Burch opened his Munich store after hours on February 11, 2015 for a Hadassah Germany fundraising event to benefit the Hadassah Medical Center in Jerusalem.
The guest of honor, actor Axel Milberg, told his audience of 100 women who came to the event that "I have never had so many listeners who had two different shoes on their feet". He entertained the audience with love scenes and poems by Alexander Granach, Charles Bukowski and Erich Fried, while the audience, who had been offered a 10% discount, shopped to support Hadassah.
With 20% of the sales going to benefit the Hadassah Medical Center, hostess Judith Epstein, the Hadassah International Ambassador to the United Nations, told the attendees that "In the Hadassah Medical Center, doctors from different nations and religions fight only against one enemy, disease."
Hadassah Patroness Regine Sixt, Honorary Committee Chair of Hadassah in Germany, added that "Hadassah is a unique project that hosts hope and peace in the Middle East. Hadassah's selfless doctors provide help to people who are sick and distressed, no matter what their religion, while engaging in the latest medical research that saves lives".  (The Regine Sixt Children's Hospital School at Hadassah was made possible by the donations collected by Regine Sixt during her  famous "Ladies Meadow" at Oktoberfest).
TV star Caterer Ulrich Dahlmann spoiled the ladies with finger foods in Valentine's Day shapes and colors: Petit Fours and mini cakes on a stick in the shape of hearts, salmon canapés and beetroot macaroons.
Tory Burch was not able to attend the event himself, but was represented by Anna Maria Morena, Senior Marketing Manager for Tory Burch.
Gady Gronich, Director of Hadassah Europe welcomed several celebrity guests, including Iris Salzberg, Hadassah Germany Chairman of the Board, BR-reporter Ilanit Spinner, Sky presenter Birgit Nössing, entrepreneur Karin Holler, painter and object artist Ilana Levitan, Martina Scammacca del Murgo e dell 'Agnone (wife of the Italian Consul General), as well as the restaurateurs Mary Ann Wahl and Nika Schottenhammel