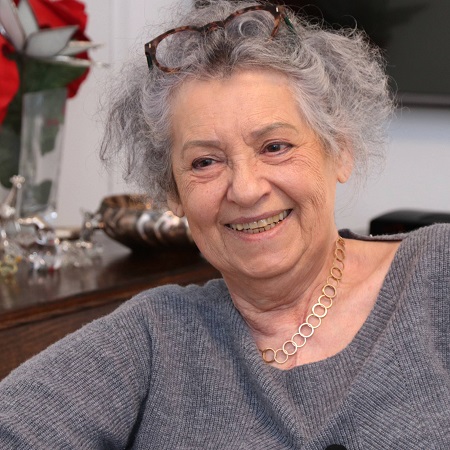 Most people with aneurysms have to choose between very risky surgery or waiting for their aneurysm to rupture. Now there's a new method to repair the deadly medical condition.
At age 62, Vera Nagovski was working full-time as an x-ray technician in Jerusalem, swimming three times a week, and playing bridge. Then she got a headache, one that would not go away. She was tired, and her muscles ached.
Blood tests at her local health clinic showed that her blood pressure was elevated. "It's that time of life when blood pressure goes up," her family doctor said.
But Nagovski, a nurse by training, had a strong instinct that something else was wrong. She insisted on seeing a cardiologist.
"There's a theory that sometimes a disease speaks to you," she said over coffee in her charming European style apartment in the Gilo neighborhood of Jerusalem. "I knew something more serious was wrong."
Nagovski learned that she had a rare, but chronic syndrome, which was causing her arteries to swell. It is called Takayasu's arteritis, named for a physician in Japan, where the disease is more prevalent. Only two in a million people in Europe, America, and Israel are afflicted with the syndrome. "It's more common among young women in Nepal," said Nagovski, not among Jewish women in their 60s of Hungarian Ashkenazi background who were born in Romania, like me."
While it is thought that the syndrome may be an autoimmune disorder, the origin and cause are unknown. In Nagovski's case, surgery to patch the aorta helped, but it didn't stop the progress of the disease. Nagovski developed a life-threatening aneurysm.
The aorta is the largest artery in the body, about the thickness of a garden hose. It runs from the left ventricle through the chest and abdomen, bringing blood to the body. The aorta curves in an arc, with branches leading upward to the brain. It's one of the most complicated and dangerous parts of the body to repair, because of the curve in the artery, difficulty of reaching the affected section, and the danger of interrupting blood flow to the brain, even for a short time.
Although Takayasu's arteritis is rare, aortic aneurysms are far more common. Many people never know they have an aneurysm until they experience the sudden, sharp pain that means it is rupturing—and also that it's probably too far along to fix. An estimated 200,000 people die each year due to aortic aneurysms.
At age 69, Nagovski's aneurysm was now 60 mm wide. She was left with the devastating choice of undergoing dangerous open-heart surgery or waiting for the pain and the rupture.
And then she heard of a third option, a new method of treating aortic aneurysms being developed right in Israel.
Through a collaboration between Israeli engineers and physicians, a newly designed stent graft is delivered to the aortic arch through a minimally invasive endovascular procedure. Thin tubes placed in the arm and the groin are used to replace the diseased segment of the aorta and close off the aneurysm.
The system, called the NEXUS™ Stent Graft System, is being developed by the Herzilya-based start-up company, Endospan. Dr. David Planer, a senior Hadassah Medical Center interventional cardiologist, has been actively involved in the creation of the device from the very beginning, through pre-clinical studies in animals. He has served, together with Prof. Mario Lachat of the Cardiovascular Center at Zurich University Hospital, as a proctor for the 40 "compassionate case" implantations of NEXUS™ worldwide.
Nagovski had to get permission from the Helsinki ethics committee to undergo the procedure, under the umbrella of "compassionate care." Although NEXUS was still new and experimental, and not yet approved by the United States Food and Drug Administration, she learned that the team had already done 40 procedures in Europe and Canada for patients in her condition. Hers would be the first such procedure by Dr. Planer in his own hospital.
The Nexus system is composed of two separate modules that are connected inside the aorta. It also includes a branch that supplies blood to the brain. The modules need to be placed with exactitude so that they don't interfere with each other, the heart and valve function, and the coronary arteries.
The aortic arch is a complex 3D structure, and in order to perform the procedure successfully, a 3D printed replica of the patient's anatomy is created and connected to a flow simulator that allows the physician to perform a full rehearsal of the implantation. "It's very unusual, maybe unique, for doctors to do a trial run before the surgery," says Dr. Planer, "but we're aiming for 100 percent accuracy."
"I have to say I was frightened," Nagovski said. "I don't have much family—most were murdered in the Holocaust. I asked my brother to come from Romania and my cousins from Germany."
The surgery took place late in June 2018. "I feel better than I've felt in years," says Nagovksi. Just recently, she was able to reunite with her family, flying off this time to meet them at a spa in Hungary.