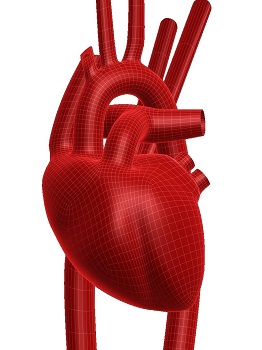 A study by the Hadassah Medical Center's heart specialists has revealed that increased levels of thyroid-stimulating hormone (TSH) are correlated with "worse clinical outcome" in patients suffering from heart failure. "Thyroid imbalance," they report, "confers significant risk in heart failure and warrants attention."
While it has been known that thyroid dysfunction affects cardiac function and is a risk factor for heart failure, the scientists report, "data regarding the clinical significance of TSH levels alone as a predictor of outcome in patients with heart failure is sparse." Their study evaluated the significance of TSH on clinical outcome in a large cohort of patients with chronic heart failure.
Study findings reveal that both a high and a low TSH level are associated with an increased mortality rate.  In addition, TSH was also an independent predictor of death and cardiac-related hospitalization. For those patients not receiving thyroid hormone treatment, "TSH was an even stronger predictor of mortality." At the same time, increasing TSH levels above normal were "independently associated with increased mortality and cardiac-related hospitalizations."
The study, entitled "The Effect of Thyroid Function on Clinical Outcome in Patients with Heart Failure," was published in the February 2014 issue of the European Journal of Heart Failure (Volume 16, Issue 2).