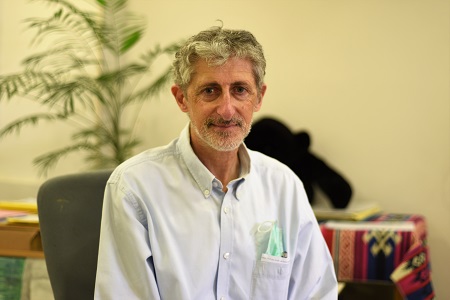 When tourists canceled their trips to Israel because of COVID-19, hotel employee Motti* was placed on unpaid leave. Stuck at home, he watched television all day. When each of his four children wanted to join a school class on the family's only computer, he would scream at them to quiet down. Two of the children had psychological issues prior to the outbreak of the pandemic that were only made worse by the new situation. Mali,* the mom, tried to keep the peace and to make sure the cramped family apartment was well stocked with food and was always clean and safe.
Dr. Fortunato Ben-Arroch, a senior physician at the Center for Pediatric Traumatic Stress at Hadassah Hospital Mount Scopus, estimates that there are tens of thousands of families in the greater Jerusalem area with similar tales from their COVID-19 experience. Motti and Mali were fortunate that they were referred to the Center, where counseling was provided via phone and video calls during the lockdown.
Mali spoke of her feelings of failure as a wife, mother, and proud housekeeper. The Center team told her that, given the circumstances, she was achieving a tremendous amount. It helped restore her self-esteem.
"When it came to Motti, we had to be very careful," says Dr. Ben-Arroch. "We couldn't risk admonitions." The team explained to Motti how much his children love him, look up to him, and want to be part of his day. The staff suggested he set aside a couple of hours to watch a movie with the kids and ask one child to choose a film, another child to make popcorn, and a third child to create theater tickets.
"Not only did this reduce friction between Motti and his children, but it also meant Mali finally had a couple of hours to herself," Dr. Ben-Arroch noted. "No cooking, no cleaning. Just breathing. Or maybe reading a good book."
Before the schools reopened, many children who have their own bedrooms were staying up all night on their phones or computers and sleeping through the day. That is easy to correct, Dr. Ben-Arroch explains. Working with families, the Center staff adjusted children's sleep schedules an hour at a time. "The bigger problem," he says, "is what children had been watching on their screens. In many cases, it was harmful content, including pornography. Some children simply became addicted to their computers. They connected to a Zoom call with their teacher, but, instead of just listening to the lesson, they surfed at the same time. After 10 hours a day of this for four weeks, withdrawal is very difficult."
The Center staff managed to curtail much of this type of behavior before it could take hold by calling families already in treatment and warning them to limit their children's screen time and the periods of time they spent alone. The staff suggested more family time, more physical activity, and the sharing of feelings. "Much of it is common sense," says Dr. Ben-Arroch, "but, sometimes, you need someone from outside to apply this common sense to a specific family."
Now that Israelis have partially returned to their routines, there has been a collective sigh of relief. However, as the last couple of weeks have demonstrated, COVID-19 is not behind them. Hundreds of their recently reopened schools have had to close their doors again after teachers or children were found to be infected.
Israel's national guidelines have changed on a regular basis, and there is much uncertainty among young people as to what they can and cannot safely do. "Many are afraid and feel stressed but are not sufficiently aware of what they are going through," Dr. Ben-Arroch notes. He gives the example of a scout leader who called one of the national helplines and asked how he should deal with his troop.
"Sometimes, such leaders ask perfectly legitimate questions, and that's great," relates Dr. Ben- Arroch. "But sometimes, they will ask the same question several times or display other signs that show that, while they're asking about their troop, they are really asking about themselves. They're projecting. They don't feel it's O.K. to say 'I feel stressed by the situation. What are some coping mechanisms?' We don't hear that sufficiently in these conversations."
It's natural to feel stressed, says Dr. Ben-Arroch. "If the stress dissipates once there is a new normal, there is little to worry about." However, Dr. Ben-Arroch urges those who still feel this way in a few weeks to try coping mechanisms like stress-management and yoga exercises, which are readily available online. If anxiety continues, then it's time to speak to a professional who can offer the appropriate path to recovery. Often, this is a short-term intervention."
*Not their real names