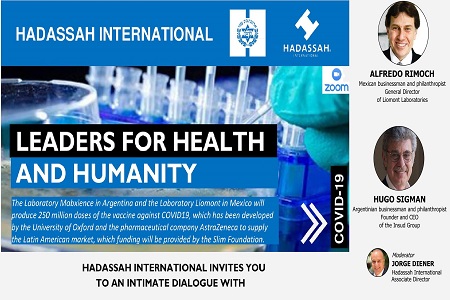 The prestigious Hadassah International Citizen of the World Award was recently presented to Hugo Sigman from Argentina, owner of the powerful Grupo Insud, and Alfredo Rimoch from Mexico, general director of Liomont Laboratories. The award is in appreciation of their humanitarian effort to bring an affordable coronavirus vaccine to all of Latin America by April 2021. Rafael Zaga, President of Hadassah Mexico, and a member of the Hadassah International Board of Directors also thanked them for all that they are doing to protect Latin America from the coronavirus.
Sigman and Rimoch will be working together to produce the COVID-19 vaccine in a new facility they have built-in Mexico based on the vaccine developed by Oxford University. The vaccine will be distributed by AstraZeneca.
They have committed to manufacturing between 150 and 250 million doses to supply the Latin American continent. The vaccine will be sold at a "non-profit" price of $4/dose that is estimated to be eight times less than other vaccines.
As a part of this humanitarian effort, both Sigman and Rimoch are committed to making it available to everyone equally, regardless of social status.
The vaccine will be produced in March 2021 and distributed in April 2021, which is several months earlier than it would otherwise have been available in Latin America. The vaccine is in Phase 3 of experimentation and if the results are positive it will be distributed to the market. To save time, production in Mexico will start before the final test results are available. If the vaccine finally fails the tests, it will be destroyed. It is estimated that adults will need two doses, as the Phase 2 study showed that only one dose has insufficient coverage.
Both Hugo Sigman and Alfredo Rimoch were very proud and honored by Hadassah's recognition of their work and proud to be significant supporters of the Hadassah Hospitals in Jerusalem.
Sigman stated: "Hadassah attracted me, and I became a friend of Hadassah because of two things. It is a sophisticated Hospital, and because it is a hospital with social and medical sensitivity, going back to the principle of medicine of caring for everyone without discrimination."
Watch the video below to see what both Sigman and Rimoch have to say about Hadassah in a conversation with Jorge Diener, Associate Director of Hadassah International, as well as the presentation of the special award to these remarkable men.
Press coverage of the event: