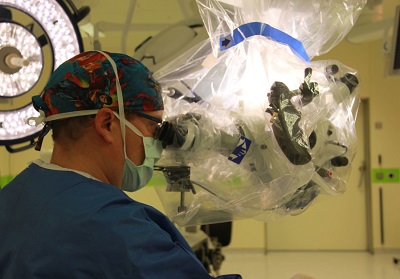 Hadassah Medical Center neurosurgeons now have the world's most advanced microscope in their surgical arsenal—the KINEVO 900—which enables them to view blood vessels and tumors in high resolution during surgeon-controlled robotic surgery.
Manufactured by the German optical company Zeiss, the microscope, the company reports, is a robotic visualization system that is "loaded with over 100 innovations," and "is designed to deliver more functionalities than any surgical microscope today." Combining optical and digital visualization modalities, it offers a "unique micro-inspection tool" for surgeon-controlled robotics and precise microsurgery.
"Neurosurgery is a microscopic challenge," explains Dr. Sergey Spektor, Director of Hadassah's Skull Base Surgery Center. "We need very good quality magnification and crisp images to see what we are doing. But nowadays, a microscope is not only for magnification, because it is also part of the robotic operative system."
Dr. Spektor praised the quality of the KINEVO 900's cameras, as well as the microscope's "wonderful mechanics." While weighing more than 500 kg., the microscope remains "completely balanced" and thus easy for surgeons to operate during procedures, he said.
"We are absolutely well equipped now," comments Dr. Spektor. "It's a great pleasure to work with really good, newly developed equipment."
See the article in The Jerusalem Post.