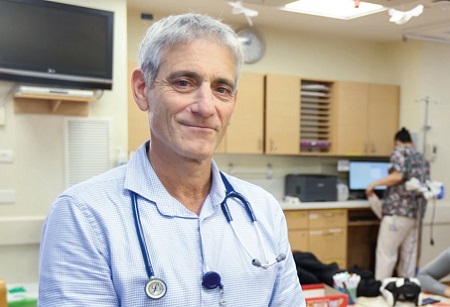 You would not expect a pediatric oncology department to be a laughter-filled place. But nurse Sarit David relates that in the newly reinvented the Dyna & Fala Weinstock Pediatric Hemato-Oncology Department at Hadassah Hospital Ein Kerem, people laugh a lot. "During the horrible times," she says, "there are many light moments."
The department now has a new team of 10 physicians and 40 nurses in place. "We have the ability, in manpower, skills, and resources, to treat any type of children's cancer," explains Dr. Gal Goldstein, Head of the department. 
Hadassah has also established a collaboration with Memorial Sloan Kettering Cancer Center in New York. Thanks to this collaboration, children from Hadassah, for example, are receiving the same contemporary protocol employed at Sloan to treat the challenging disease of Ewing's Sarcoma.
Whether it's helping a child to keep up with school work or to take a series of daily pills, providing home-cooked food to parents who spend long hours on the unit, or bringing in medical clowns to put a smile on the children's faces during difficult medical tests, Hadassah's nurses, social workers, teachers, and volunteers offer much more than just medical care to their patients. One child with Down syndrome, who was being treated for leukemia, loves music.  The staff started playing music for him, and as soon as he was well enough, the nurses began dancing with him in his room. Another child expressed a love for the police. The nurses connected him with a police officer, who took him for a ride in an official police car.
Read the full article about Hadassah's oncology staff and successfully treated patients in The Jerusalem Post.