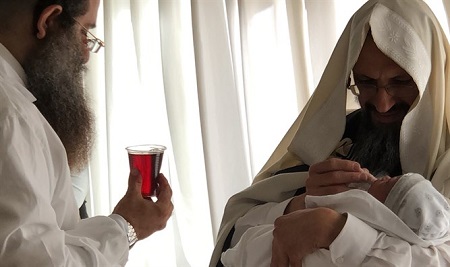 There were tears of joy at Hadassah Hospital Mount Scopus recently as the staff mobilized to create a special circumcision ceremony for a new mother.
The new mom and dad had immigrated to Israel alone from Ethiopia, and they did not have family or friends or the financial means to organize and host a circumcision celebration for their new baby boy.
"As part of my job, I hand out birth certificates," relates Flora Ben-Hamo, head of the maternity department. "In one of the rooms, I saw a woman who looked so sad. I inquired if she was okay and, through her tears, she asked me if we arrange circumcision ceremonies inside the hospital." Typically, the hospital does not, but the mom's predicament touched Ben-Hamo.
Ben-Hamo enlisted help across the Mount Scopus campus and was amazed at the response. Everyone was eager to assist, volunteering time and money.
When hospital Rabbi Moshe Klein set out to locate a volunteer mohel (ritual circumciser), he was inundated with offers.
"When Rabbi Ofer Rhoda was selected, the others expressed disappointment that they could not participate in this joyous occasion," says Rabbi Klein. "This was Israel at its best, pulling together just for the sake of giving."
The maintenance team happily took the time to decorate the area around the hospital synagogue, and the hospital kitchen staff contributed by laying out delicious refreshments to celebrate the event.
Hospital staff made a special effort to take the time from their work to come to the synagogue as they, together with mobile patients and hospital visitors (including several from Hadassah International), all gathered to participate in the joyous ceremony. The synagogue was full to overflowing with well-wishers.
Happy tears flowed down the mother's face as she watched her baby being lovingly cuddled, carefully and expertly circumcised, and welcomed into the Jewish covenant with the responsive prayers of everyone present. The crowning joy was the naming part of the ceremony when the Rabbi proclaimed that the baby would now be known as Daniel.
As baby Daniel was handed back to his loving parents, participants came forward to wish them Mazel Tov. The sound of joyful music flowed out into the corridors of the hospital.
"It was very exciting," says Ben-Hamo. "The kindness, the donations, seeing way beyond just a patient's medical case  The hospital staff enveloped the couple with everything they required."
The new mom spoke for both the delighted parents:
"Thank you, dear Flora and all the hospital staff. I can't believe how everyone embraced my husband, me, and baby Daniel. Flora was attentive to me from the beginning and made me feel like we were family. Thank you, everyone. This is our people in all its glory."
See the story in Arutz Sheva.