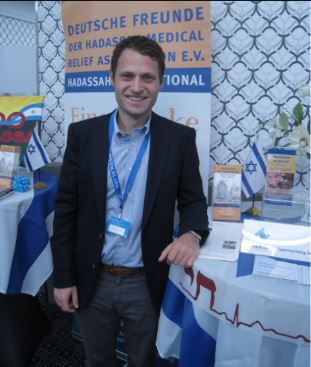 Photo: Prof. Dr. Rotem Lanzman, Chairman of the Association of Jewish Physicians in Germany (BVJM).
From 17 – 19 November 2017, the 4th International Physicians' Congress took place in Duesseldorf, Germany. The topic was "Jewish Tradition and Israeli High-Tech".
The Congress was honoured with the attendance of Dr. Zeev Feldmann, Chair of the Israeli Medical Association (IMA) World Fellowship, and Prof. Dr. Frank Ulrich Montgomery, President of the German Medical Association.
Saxonian and Thuringian friends of HADASSAH participated in the exhibition that took place parallely. It was there that they presented HADASSAH's work via an exhibition booth. A roll-up saying "Building bridges between nations via medicine" was placed.
Many conversations were led to inform physicians about HADASSAH Medical Center. An appeal for financial support was made; around 50 brochures could be distributed and handed out to the approximately 400 participants of the congress, which showed a great interest in the Hadassah Hospitals and their work for medical care in the Middle East, scientific Research, and Bridges to Peace through Medicine.
Prof. Dr. Montgomery, the President of the German Medical Association, visited HADASSAH's information desks too and was interested to know more about the work of HADASSAH.
Dr. Marco Harari, Ein Bokek / Israel, gave a lecture on "Climatotherapy at the Dead Sea".
You can find additional online information on www.bvjm.de.
With best regards,
Dr. Siegfried Hummel
Saxonian and Thuringian Friends of HADASSAH, Germany