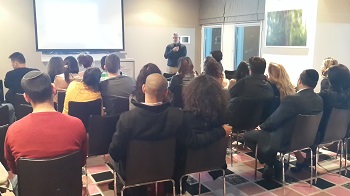 Dozens of women and couples came to an informational evening in Tel Aviv to learn more about the Hadassah Medical Center's Egg Donation Program, which works in partnership with the Reprofit Clinic in the Czech Republic.
Reprofit, specializing in egg donation, is a world leader in issues of infertility. Under the direction of Fertility Expert Prof. Ariel Revel, Hadassah opened a private medical clinic in Tel Aviv over six months ago to provide personal consultations and care for residents of central Israel.
Prof. Revel had traveled to Brno in the Czech Republic to search for a clinic to collaborate with and began Hadassah's program in 2006. Reprofit conducts the egg retrieval procedure in its state-of-the-art laboratory. The eggs are fertilized via intra-cytoplasmic sperm injection (ICSI), whereby a single sperm is injected directly into an egg in order to fertilize it. The embryo is then transferred to the woman's womb. Hadassah's specialists guide the potential parent through the entire process, including the logistical components, such as flight arrangements to the Czech Republic and hotel accommodations.
This recent informational evening offered attendees the opportunity to meet representatives from both the Israeli and Czech medical teams and to register for the program. "Initially, I felt as if I was sitting in a support group for worthless women," revealed one of the participants. "That's the overall feeling in society for those of us who can't bear children–worthless." She added, however: "After hearing about the alternative programs and solutions provided by Hadassah, I was filled with new-found inspiration, promise, and hope that one day I will fulfill my dream of motherhood. Thank you, Hadassah for the wonderful, important, and informative evening, and for helping us understand that not only is there still hope, but there is an incredible, practical, and extremely professional way to fulfill our dream of bringing a child into the world."