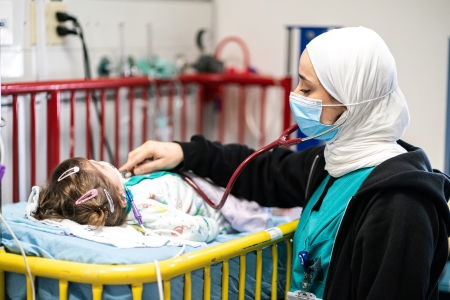 As medics worked alongside rescue workers to pull the living from the rubble after this year's earthquake tragedy in Turkey, there was little delineation between the attention given to adults and that given to children. But their needs in times of crisis can be very different. Taking note of that difference, Hadassah staff have begun focusing on pediatric disaster management and are at the forefront of introducing it to the Israeli medical system.
"No one says 'if there'll be a huge earthquake in Israel,' but rather 'when'," says Hadassah Pediatric Emergency Room specialist Dr. Lea Sarna Cahan. "We need to be ready." Along with department head Dr. Saar Hashavia, Dr. Sarna Cahan just hosted Israel's first symposium on pediatric disaster management. The Health Ministry, Magen David Adom, and several of the country's hospitals were represented at the symposium.
Speaking at the event, Israel's leading experts admitted that not enough is being done to prepare for treating children. Hadassah staff explained the particular needs of the young. "The most important thing from a psychological perspective is to make sure children know the event is over, that they can breathe and relax," Dr. Fortunato Ben-Arroch, head of the Pediatric and Adolescent Post-Trauma Center Hadassah Mount Scopus, told participants. "We must explain everything to children at each step and not talk above their heads. It's also imperative to limit their access to media."
But even before treatment, hospital teams face challenges, as Emergency Medicine Department nurse Merav Kamer explains. "Just identifying a child can be a major task. Often, they will be unaccompanied, they don't know their national ID number, they might be unable to speak or be too young to speak."
Recent tragic events in Israel showed how difficult the process of identifying injured children can be. Israeli hospitals were inundated with ultra-Orthodox children after the crush on Mount Meron and when a gallery collapsed in a Jerusalem synagogue. "The boys were all dressed the same, they don't have identifying jewelry or tattoos, and on religious holidays they aren't carrying phones if they carry them at all," explained Kamer.
She told her audience of further challenges: Children hear everything that is said around their hospital bed, some run away during all the confusion in a hectic ward, and the vast majority of hospital staff are trained to treat adults, not children.
Doctors Hashavia and Sarna Cahan are now completing research on how the issue was tackled in practice in the first weeks of the war in Ukraine when thousands of children became refugees overnight. They are trying to establish how much pre-delegation training Israeli medics received, what psychological help they got, and more.
"It's not just about the treatment of injuries," says Dr. Sarna Cahan. "We need to learn about earthquakes, radiological threats, and other challenges in the field. Children comprise 30 percent of the world's population. In some cities in Israel that figure can reach in excess of 50 percent. We need to tackle their needs."
Hadassah's push to promote pediatric disaster management is part of a broader policy, led by the new Pediatric Division Director Prof. Itai Shavit, to be Israel's leading tertiary-care facility for pediatric emergency medicine.
"We're very proud of the role Israel plays around the world," says Dr. Sarna Cahan. "People know that because of terror attacks here, we have a great deal of experience."
Hadassah is a leader in this field, and the doctors believe that the symposium is only the first step toward creating trailblazing expertise in this area at Hadassah during domestic and international crises.