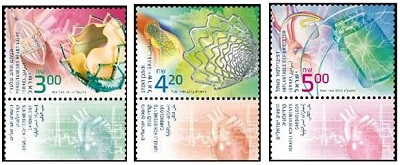 With Prof. Chaim Lotan, head of Hadassah's Heart Institute and Outgoing President of the Israel Heart Society (IHS) as host along with IHS Secretary-General Dr. Amit Segev, over 1,000 cardiologists from around the world participated in the IHS's international conference in Jerusalem, celebrating its 60th anniversary and spotlighting Israel's major contributions to the treatment of cardiovascular disease.
Commemorating three of these cardiac contributions, Israel's Philatelic Service recently issued three new postage stamps. One features a percutaneous (inserted through the skin) artificial heart valve; another highlights stents (metal mesh cylinders that release medication and hold open damaged or collapsed coronary arteries); and a third contains an illustration of an implanted defibrillator that electrically regulates a heartbeat. The stamps were unveiled at the IHS conference by Philatelic Service Director Yaron Razon. Among the leading foreign guests at the conference were American College of Cardiology President  Prof. John Harold and European Society of Cardiology President Prof. Panos Vardas.
In an interview with The Jerusalem Post, Prof. Harold, a cardiologist at Cedar-Sinai Medical Center in California, related that he has trained many Israeli cardiologists and described the growth of cardiac services in Israel as "nothing short of extraordinary." He also commented: "Israeli cardiologists have great bench-to-bedside developments. Israel is one of the safest parts of the world to have a heart attack."
Prof. Lotan told the audience that the mortality rate from cardiovascular disease has dropped in recent decades by half, and that 90 percent of acute cardiovascular events are treated immediately with catheterization. In addition, he noted that in the last four years, about 1,500 artificial heart valves have been implanted via catheter to replace faulty ones in patients for whom open-heart surgery is counter indicated.
For a more comprehensive article on the conference, see Judy Siegel-Itzkovich's April 23, 2013 article in The Jerusalem Post, "Israeli Heart Innovations Hailed at Jerusalem Conference." http://www.jpost.com/Health-and-Science/Israeli-heart-innovations-hailed-at-Jlem-conference-310755