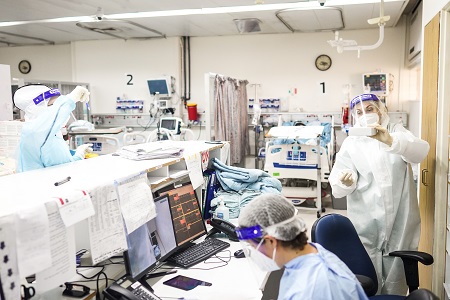 While forest fires raged in areas close to Hadassah Hospital Ein Kerem, its medical teams were ramping up new COVID-19 units.
Fortunately, Hadassah Ein Kerem has not had to evacuate, though unpredictable winds keep firefighters on high alert as they continually coordinate with hospital administrators.
In this, Israel's fourth wave of the COVID-19 pandemic, the Health Ministry estimates that there are already up to 17,000 new cases daily. The number of infections in Jerusalem is lower than in previous waves, but Hadassah is receiving patients sent by other hospitals around the country.
As of this writing, there are two general COVID-19 outbreak units and one COVID-19 intensive care unit (ICU) at Hadassah Ein Kerem. Staff are prepping a second ICU and are expecting to open it in the next few days.
"We are prepared to deal with every patient who arrives," says Hadassah ICU Director Prof. Sigal Sviri, who oversees the hospital's COVID-19 efforts. "The team is tired," she reports, "but we are doing everything we can to give the best care to each patient."
Currently, there are 10 patients, aged 29 to 86, in the COVID-19 ICU. Most of these patients are ventilated. The youngest is in critical condition. He was not vaccinated.
Prof. Alon Hershko, who is managing one of the COVID-19 units in addition to his regular work heading an internal medicine department, reports that all the internal medicine units are full. "Many of those hospitalized in internal medicine," he says, "didn't take care of their health over the last 18 months, with large numbers not seeking treatment until now."
As they have throughout the pandemic, Hadassah physicians are urging Israelis not to avoid medical treatment for fear of COVID-19 infection. Prof. Sviri once again is calling on everyone to get vaccinated.
On August 15, Hadassah began providing a third shot, a booster vaccination, to individuals age 50 and over and to its staff over age 30.