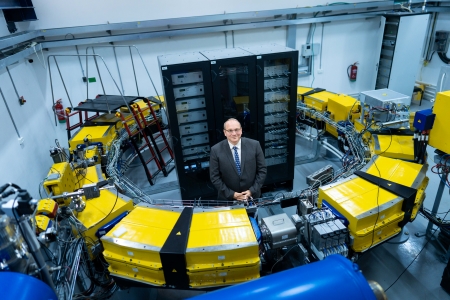 For the first time in Israel, Hadassah Medical Organization (HMO) working in collaboration with Israeli company P-Cure, is now able to provide groundbreaking experimental proton radiation treatment for cancer patients. This treatment is more precise and efficient, safer, and has fewer side effects than any other treatment that has been available until now.
In the past, Israeli patients who wanted to receive proton radiation treatment have had to fly abroad for a long treatment period and finance the entire procedure themselves at an estimated cost of $100,000.
Rena Vahanish, a cancer patient with painful and complex tumors in her neck and mouth who had already lost hope after other treatments had failed, was selected to be the first recipient of this new treatment at Hadassah Hospital at Ein Kerem.
"When I heard that there is an innovative treatment that is less painful and more focused than the treatments I have undergone to date and that it is possible to receive it as part of a clinical trial for the first time in Israel, I decided that I would give it one last chance," said Rena.
"The doctor who has taken care of me for several years throughout my disease, Prof. Aron Popovitzer from Hadassah, chose me to undergo the treatment. I am extremely grateful to him and Hadassah Hospital for this decision. Now I am more optimistic, and my son and daughter, who have accompanied me to every treatment and examination, are no less excited."
"Rena's condition is good. Her treatment is progressing satisfactorily," says Prof. Popovitzer, Director of the Sharett Institute of Oncology. "It is a series of treatments using the most innovative technology. The best minds from Hadassah and P-Cure have worked for years. We are all excited about the first patient to receive such treatment here, within the State of Israel."
Background to this clinical trial:
The collaboration between the P-cure and Hadassah Ein Kerem Medical Center has resulted in establishing the necessary infrastructure for joint clinical development. Thus, for the first time in Israel, proton radiation treatments will be possible for cancer patients who are suitable for a treatment trial. Furthermore, the clinical trial is being carried out free of charge to the hospital and the patients themselves. With FDA approval, it constitutes a rare opportunity to make an innovative treatment accessible to the Israeli patient.
P-Cure was established in 2007 and develops, manufactures, and installs proton irradiation systems for cancer treatment. The company emphasizes that more than half of cancer patients worldwide are treated with radiation therapy as a single treatment or in combination with surgery or drug treatments, with the vast majority of radiation treatments performed using X-rays.
Despite its widespread use, the use of X-rays is not focused and, therefore, also causes many side effects and damage to healthy tissues around the cancerous tumor. More accurate and safer irradiation is possible with the new technology of proton beam therapy instead of X-rays. As a result, the treatment is more effective and without side effects.
Proton radiation treatment has great clinical potential, however today only about 1% of all hospitals worldwide have adopted this innovative technology. The low adoption rate stems from the size of the existing projection systems, the real estate space required, and the enormous cost of setting up and operating these systems.
P-Cure has developed innovative technology to minimize system size and improve clinical capabilities. In this way, the company offers oncology departments the opportunity to implement proton treatments at a significantly lower price than the alternatives. In addition, the technology developed in Israel constitutes a breakthrough and promotes national pride in making proton radiation therapy accessible to cancer patients.
In recent years, the company has established a development and production center on the outskirts of Modi'in, where the clinical trial will take place in collaboration with Hadassah experts. At the same time, it has established a production facility in China to support the Far East.
Hadassah Director General, Prof. Yoram Weiss: "I am very pleased that we have reached the moment when we are launching the treatment of our patients for the first time as part of a clinical trial, together with P-Cure, with whom we have worked hand-in-hand for several years. The close collaboration between our professionals, including oncology specialists, physicists, nurses and physicians, and the P-Cure team, has led us to the possible clinical use of this unique system. Furthermore, as part of the clinical trial, we will be able to provide proton radiation therapy to patients in the State of Israel – who until now had to travel abroad for treatment, which will certainly help the Israeli system as well. In addition, Hadassah's mobilization to promote an Israeli company that has developed a 'blue and white' product that will be marketed worldwide, is no less important."
Dr. Michael Marasch, CEO of P-Cure: "Hadassah and P-Cure make proton-based radiotherapy accessible to all patients requiring radiation therapy. The patients will receive targeted treatment without damage to nearby healthy organs and side effects. The system knows how to identify and focus on the tumor itself and even identify changes that occur in the tumor – even the smallest ones, and can focus the treatment."
Director of the Sharett Institute of Oncology at Hadassah Medical Center, Prof. Aron Popovitzer: "This is the first treatment of its kind given in Israel. We will start in the first stage with patients who do not have another treatment option or patients with tumors that are too close to strategic locations in the body and, therefore, cannot be given regular radiation therapy. These are patients with ENT cancer and recurrent brain cancer. The Hadassah team accompanies the process and leads the field of physicists and the many medical decisions accompanying the project. Within a short time, we will begin treatments to benefit cancer patients in Israel."
Read more about Israel's First Proton Therapy in Hadassah International's 2022 YIR pages 28 – 29 by clicking here.
Main picture caption: Dr. Jon Feldman, Chief Medical Physicist at Hadassah next to P-Cure's Synchrotron, the accelerator behind the proton therapy. The synchrotron accelerates injected hydrogen ions (protons). These protons travel in a fixed path. The magnetic field that bends the protons in their path increases the protons' energy up to 70-250MeV depending on the tumor depth. The synchrotron produces a very precise beam that targets the cancerous lesion
Watch the short video below titled 'Celebrating the Launch of the First Proton Therapy Treatment made possible by HMO and P-Cure'.