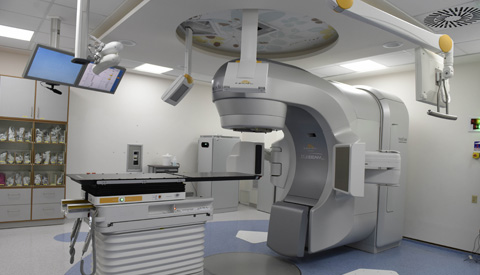 "The arrival of our new linear accelerator takes us to a whole new level of delivering radiotherapy," relates Dr. Marc Vigoda, head of the Hadassah Medical Center's Radiotherapy Unit in the Sharett Institute of Oncology.
Speed and precision are essential parameters in delivering radiotherapy, explains Dr. Vigoda. The challenge is that healthy cells often get destroyed in the process. With this new state-of-the-art accelerator, radiotherapists can deliver higher doses of radiation in less time and have greater control. A course of treatment that used to take a month can now be completed in a week.
Dr. Vigoda adds: "The system is so advanced that it can find even a tiny tumor and target it for radiation–even when it is close to a vital organ." In the past," he notes, "we often worried about harming organs that were very close to the tumors."
Whereas previously a tumor close to the spine might have been both inoperable and beyond the possibility of irradiating, with the new accelerator, a Novalis Turebeam STx 2016, it's much easier to pinpoint this lethal tumor and destroy it. If there are numerous metastases of brain cancer, they can be radiated simultaneously, decreasing the risk for the patient and providing more effective eradication of the cancer.
Among the system's special features is a robotic couch, which the patients lies on during treatment.  It rotates in a variety of directions, allowing for maximum accuracy in positioning the patient for treatment. During the radiation therapy, the system checks the patient many times, photographing him so the physician can evaluate the accuracy of the therapy in real time. In addition, the system includes a mechanism that takes into account the patient's breathing pattern and how it affects the patient's positioning, ensuring maximum accuracy in targeting the tumor.
"This is one of the best accelerators in the world," comments Prof. Tamar Peretz, head of the Sharett Institute. "Patients will surely enjoy better quality of life while undergoing treatment."