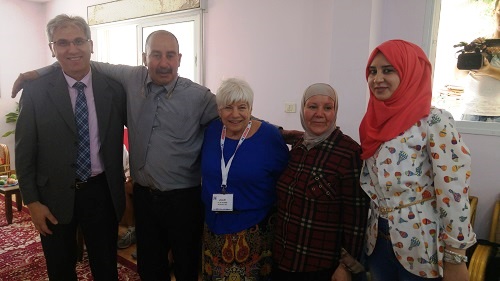 When Osama Qassriwy heard that an Interfaith Mission sponsored by Hadassah was coming to Bethlehem to visit the Christian sites, he insisted on hosting them for a festive meal. Mr. Qassriwy wanted to show his appreciation for the Hadassah Medical Center saving his daughter, Sara, after she collapsed while jogging.
Telling the story of his daughter's close encounter with death to the Mission participants, Mr. Qassriwy recalled how Sara's organs were in great distress, brought on by extreme heatstroke. It was the intervention of Hadassah specialists that saved her life.
Enjoying the festive occasion with Sara and the Hadassah visitors was Prof. Rifaat Safadi, head of Hadassah's Live Unit and one of the physicians who treated Sara.  "Sara's condition was very grave," he said. "When she came to Hadassah, her organs were about to fail."
"It was very moving to experience the love and thankfulness expressed by our patient and to see this beautiful young woman get her life back," relates Julie Morris, who chaired the Mission.
Photo Caption:  Left to right: Prof. Rifaat Safadi, head of Hadassah's Liver Unit; Osama Qassriwy; Hadassah Mission Chair Julie Morris; Bushra Qassriwy, Sara's grandmother, and Sara.