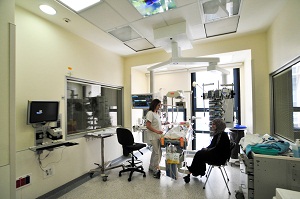 April 23, 2012– With an audience of 8-10 million people watching, Hadassah International Ambassador and Actress Veronica Ferres won 250,000 euro on a German quiz show and announced that she would donate half her winnings to the new Pediatric Intensive Care Unit at Hadassah Hospital-Ein Kerem.
On the state-sponsored ZDF broadcast, entitled "Quizshow," Ms. Ferres, identifying herself as a Hadassah "PICU patron," told her listeners about the PICU and how patients are both Arabs and Jews, receiving the same quality care side by side. At hearing the information, the studio audience applauded. Ms. Ferres also emphasized the urgent need to support the PICU, whose first young patients were moved in on April 17. Ms. Ferres' website notes that she "takes a stand worldwide as the 'Hadassah International Ambassador' for a peaceful coexistence of cultures and religions in the Middle East by supporting healing, teaching and research at the Hadassah Medical Center in Jerusalem."
Hadassah's PICU is the principal facility for critically ill newborns, children, and adolescents through age 16, from the entire Jerusalem area (population of over one million), who have suffered multiple traumas, neurotrauma, or undergone complicated surgical procedures. Hadassah is a leader in pediatric cardiology and cardiac surgery, pediatric neurosurgery, and pediatric hemato-oncology.
The broadcast aired Wednesday evening, April 18, during prime time, hosted by Quizmaster Joerg Pilawa.
To watch the show, click to http://quizshow.zdf.de