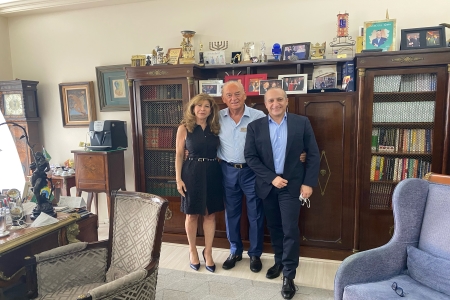 Marcos Arbaitman is one of the greatest entrepreneurs in the events and tourism industry in Brazil. General Director of the Maringá Group, he is one of the most influential men not only in national and international tourism, but also in the entire Brazilian society, and in the Jewish community.
Son of Polish immigrants and Paulista by choice, since his childhood he worked hard until he became one of the most successful entrepreneurs in the tourism industry.
Mr. Arbaitman was Secretary of Tourism of the State of São Paulo in Mário Covas' Government and is currently a member of the Board of Directors of more than 50 entities in Brazil, such as the Museum of Sacred Art, São Paulo Biennial, OSESP, Cinematheque Brasileira, MAM, MUBE, Mozarteum, Albert Einstein Hospital and Unibes; and abroad, such as the Manhattan School of Music in New York, the Israel Museum in Jerusalem, UNESCO, The Metropolitan Opera House in New York and the Fundación del Teatro Real de España.
Mr. Marcos Arbaitman has made more than 62 trips to Israel.
He was President of World Maccabi and the Hebraica club in Sao Pablo on several occasions.
Photo caption: (l to r) Ethel Fainstein – Hadassah Internation Director for Latin America, Marcos Arbaitman – Hadassah Brazil President, and Jorge Diener – Hadassah International Executive Director