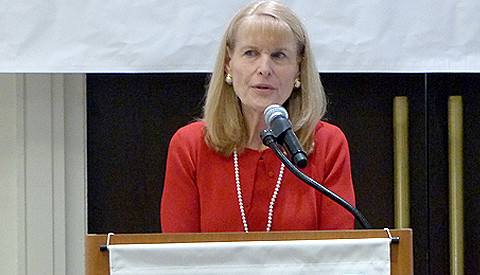 Hadassah, the Women's Zionist Organization of America (HWZOA), announced today that Ellen Hershkin was officially elected as the new National President at its annual meeting in Philadelphia, PA. The new national president is the organization's 26th in its 103rd year.
She will lead the 300,000-member organization in the US and Hadassah International supporters around the world,  as well as overseeing Hadassah's renowned efforts in the areas of groundbreaking medical research and, support for Israel.
Outgoing National President Marcie Natan, whose term ends December 31, 2015, led the organization for four years, negotiating the historic agreement between the Government of Israel, Hadassah Medical Organization and HWZOA and advocating on key issues of national importance.
Since the beginning of her membership in 1973, Hershkin has held various leadership roles within Hadassah. In addition to serving on Hadassah's National Board and Executive Committee, Hershkin is a former board member of the Jewish National Fund and the United Israel Appeal Board. In May 2006, at its annual installation event, the Suffolk Council of Jewish Organizations bestowed its highest honor on her for her leadership, commitment and dedication to Jewish life. Throughout her 42 year membership in Hadassah, Hershkin has served as a national vice president, national secretary, the national coordinator of Young Judaea, national chair of Hadassah's Membership Outreach Department, the national chair of the Public Affairs Department and the National Office in Israel, national chair of Hadassah's Convention in 2004 and as a member on various committees throughout the organization.
Hershkin studied speech and education at Hofstra University and Jewish studies through a program of the Melton School of Jewish Education/Hebrew University. She was a travel consultant for 20 years and specialized in Israel travel.
As Hadassah (HWZOA) continues to evolve, the national president-elect will be instrumental in guiding the organization through setting and achieving aggressive programing and financial goals. She will also play a vital role in supporting the lifesaving research and care provided at Hadassah's two world-renowned hospitals and research center in Israel.
In accepting the honor, Ellen thanked Marcie Natan, the current President of HWZOA for her "tireless commitment, devotion and leadership to Hadassah" and said she is "humbled" and "energized to continue Hadassah's critical work."
Hadassah International congratulates Ellen on her election as Hadassah's 26th National President.