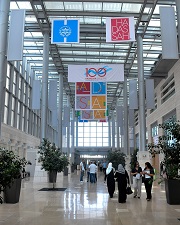 During Hadassah's Centennial Celebration, major donors from around the world were honored with dedication ceremonies that included cutting the ribbon on plaques recognizing their contribution to the Sarah Wetsman Davidson Hospital Tower at Hadassah Hospital-Ein Kerem in Jerusalem.
Since 2005, Hadassah donors have helped fund the building of the 19-story tower on the Ein Kerem campus, which houses indoor healing gardens. It is Israel's newest, most high-tech facility for patients.
"When you come in through the atrium, you feel the power, permanence, and strength of this building," said Hadassah National President Marcie Natan. "The ambiance of beauty and warmth, the breath of fresh air and nature from the gardens here help the healing and renewal of our patients.
"The new tower is a huge contribution to the city of Jerusalem, the state of Israel, and the daily healing activities that occur within its walls. The donors feel the pride that comes with knowing that their names will last forever in Jerusalem."