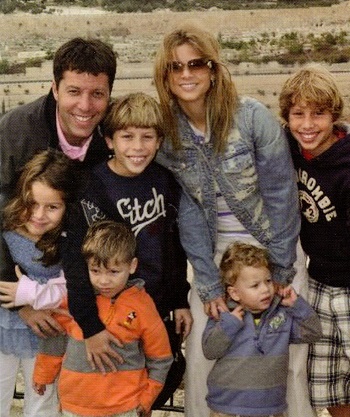 Sally and David Abadi, ardent supports of Israel and of Hadassah, finally had the chance to visit Jerusalem – and the Hadassah Medical Organization – with their family this past fall. They flew from Panama City, where they reside, to Ben – Gurion Airport with their five young children, each of whom have their names etched on the walls of the new Sarah Wetsman Davidson Hospital Tower.
The Abadi family was led on a tour through the halls of the Hadassah Medical Center, the Tower, the underground bunker, and the Abbell Synagogue.
"My kids were in awe" said Sally. "they loved hearing about the procedures in case of emergency and all of the stories related to the Chagall windows. We were so impressed with the Tower architecture and the state–of-the art technology."
'When I visited HMO," Sally continued, "I saw this huge building full of people giving and seeking treatment, and I thought to myself, Hadassah is really the nucleus of medicine. It is everyone's responsibility to take care of Hadassah because of what it means to Israel and the Jewish people."
It was only eight years prior, to the month, that Sally and David Abadi first came across Hadassah. They were invited to a performance hosted by Hadassah International Panama, where they opened the evening with a video about Hadassah. "I remember looking at my husband during the film and saying, " If I am going to do something , it will be this, because this organization does everything that really matters in life – helping others, healthcare, and Zionism," recalls Sally.
Sally began volunteering for Hadassah Panama, organizing first-aid seminars in Panama with HMO doctors. Shortly after, she assumed a role on the global Board of Directors of Young Hadassah International [YHI], a network of young professionals around the world who support Hadassah. Sally helped plan international conferences in Berlin and Vienna, and was then instrumental in expanding YHI's presence in Latin America with its first ever Latin American conference.
As David's advertising company began to expand, he re-branded YHI, all the while accompanying Sally to conferences and events around the world.
"Hadassah was a sort of awakening for me that I could do other things besides being a mom, " said Sally. Even thought my kids are my number one priority, all of my interests are related to Israel and doing things for Israel. I was amazed to be involved with people from all over the world who shared the same goals, passions and interests, and wanted to do something meaningful to impact medicine, Israel and the world."
Three years after their introduction to Hadassah, Sally and David became members of the Society of Major Donors. They contributed a double patient room in the Tower's 6th floor surgical patient center, in honor of their five children's b'nai mitzvah to come. The children's names, as well as David's and Sally's, appear on the plaque; Andy, Alex, Maiah, Mike and Joel. "We wanted to inspire out kids and instill a sense of belonging, " said Sally. "We hope that one day they will also give." Sally and David has given gifts before, but their gift to Hadassah was the most significant. "It was important to me that the gift would be one that was hard to make – that it would represent a real sacrifice of our earnings. What could be better than to give it to Israel and a place where people are healed? It was the most worthwhile gift we have made.