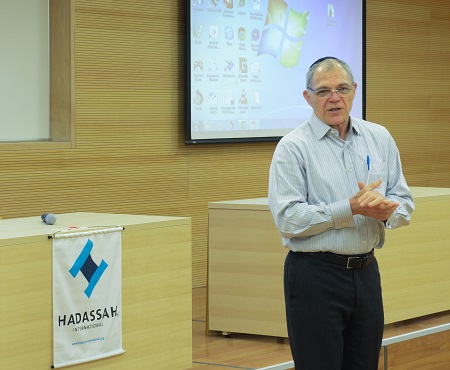 Hadassah International expresses its deepest appreciation to Moishe Sandler of Monterrey, Mexico, for his exemplary three-year term as President of Hadassah International.
During his tenure, Moishe broke new ground for Hadassah International.  He served as the first President of the Hadassah International Board of Trustees from outside of the USA, and he successfully built the international representation on the Board.
Moishe 's vision for Hadassah International was rooted in his deep love of Israel and his appreciation of the Hadassah Medical Center and all it stands for.
As a businessman, Moishe encouraged international business development as a model for Hadassah International.  He generated plans for entrepreneurial projects within countries where Hadassah International has units that could establish connections to the Hadassah Medical Center, thereby generating new sources of funds for HMO. Some of these plans are now coming to fruition.
Moishe encouraged and supported Hadassah International's entrance into new markets in Brazil and Israel. In less than 3 years, these units have become two of Hadassah International's most successful.
Under Moishe's leadership and guidance, Hadassah International has grown and continues in its mission to make significant contributions in support of the Hadassah Medical Center.
We are deeply grateful to Moishe for his untiring efforts and diligence in promoting and supporting Hadassah International. We know that he will be involved with and committed to Hadassah International and the Hadassah Medical Organization for many years to come.
Todah Rabah,
Joyce Rabin                                                                                                              Melissa Kaplan
Chair, Hadassah International                                                                                   Executive Director, Hadassah International