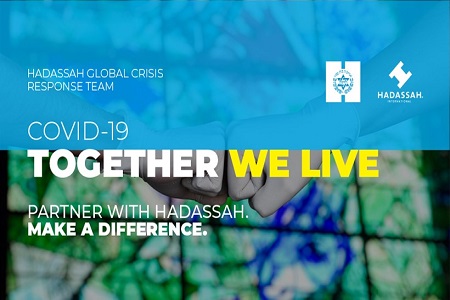 COVID-19 is a global emergency.
Hadassah International has launched a global campaign
TOGETHER WE LIVE
to help countries around the world while raising money for the Hadassah Medical Organization.
As the Coronavirus pandemic moves from one country to the next, the Hadassah Medical Organization is able to use its enormous knowledge, expertise and experience to help those who are seeking advice.
Hadassah International, a global network of dedicated and enthusiastic friends and supporters of the Hadassah Medical Organization (HMO), is in a unique position to reach out and form partnerships that will help countries and communities that are now feeling the impact of this crisis. In return, the communities that Hadassah International is helping will reciprocate by helping the Hadassah hospitals.
The Hadassah Global Crisis Response Team is offering help in several areas.
Consulting and advise on Community Prevention and Crisis Management Programs
Sharing medical protocols and knowledge right from HMO
Medical Webinars and Teleconferences with HMO specialists
Remote Crisis Management in isolated locations (through telemedicine)
Creating global communities of self-support for dealing with pandemic effects
Virtual exchange of know-how among HMO and international experts
How is this playing out in real time?
Consulting and advice
Argentina: With the help of Hadassah International the Jewish Community in Argentina has come together to fight COVID-19. Several Business leaders have donated $100,000,000 to the CV-19Argentina Fund, which will provide a volunteer network to support the elderly and establish temporary clinics. Jorge Diener, Associate Director of Hadassah International is in daily contact with the community leadership with regard to the implementation of this program.
Mexico: The Mexican Jewish community is highly organized. They approached Hadassah Mexico to provide advice from HMO and Hadassah International as to how they should proceed to protect the community as much as possible. Jorge Diener has been advising them on a regular basis. A website has been established as a resource for the Jewish community. http://jerum.org.
Chile: A webinar was held under the auspices of the Israeli Embassy in Chile to talk with decision makers with regard to COVID-19.
Ecuador: Discussions have been held regarding supporting the government of Ecuador in handling COVID-19.
Daily reports on COVID-19 in Spanish from Jorge Diener for the Jewish communities in Latin America. This has included a regular column in the Argentinian Jewish News (AJN) which serves all of Latin America.
France: The Jewish community in France has turned to Hadassah for information and advice on COVID-19, including a program with Prof. Yoram Weiss, Director of Hadassah Ein Kerem on Shalom Radio, the Jewish Radio Station.
Australia: Hadassah Australia has been facilitating contact between medical professionals at HMO and two major hospitals in Melbourne (the Royal Melbourne and the Alfred Hospitals) to discuss best practices.
Webinars and events
Hadassah medical personnel have been sharing their COVID-19 expertise in webinars and interviews with TV, radio and printed media around the world.
A recent webinar on Emergency Room practices during the COVID-19 pandemic organized by Hadassah Australia for Australia and New Zealand that featured HMO's Emergency Room team of Prof. Kobi Assaf and Dr. Ahmed Naama, and doctors from 2 other Israeli hospitals resulted in a participation of 263 Medical professionals dealing with COVID-19 from 13 countries.
Webinar with the Israel Embassy in Chile.
Video conference about COVID-19 with the Argentinian-Israeli Chamber of Commerce.
Latin Event with Dr. Alexander Saadia on COVID-19 Intensive Care.
Message to the World with Prof. Yoram Weiss, Director of the Hadassah Hospital at Ein Kerem.
International Mental Health Virtual Conference.
World Zionist Organization Latin Department webinar on COVID-19.
Interviews on Latin American TV including Dr. Malena Cohen -Cymberknoh (originally from Argentina) who discussed respiratory complications of COVID-19; and Dr. Michal Luria who spoke about sexuality during the Coronavirus pandemic.
A webinar with Prof. Sigal Sviri on setting up capacity in the COVID-19 isolation ICU at Hadassah Ein Kerem.
Dr. Allon Moses has shared advice that has reached many parts of the world.
UK interview with Dr. Ran Nir-Paz, Hadassah Infectious disease specialist.
Webinar updates for Hadassah International leadership with Prof. Zeev Rotstein, Director General of the Hadassah Medical Organization.
Tools to implement the Hadassah COVID-19 outreach and offer the opportunity 
Creation of Global Crisis Response HMO Team to be led by Prof. Yoram Weiss. Team members are: Dr. Hagai Levine, Prof. Avi Israeli, Prof. Yaron Ilan, Prof. Arie Ben Yehuda, Dr. Sigal Sviri, Prof. Jacob Assaf, Dr. Ahmad Nama.
HMO has created a manual with guidelines and protocols in Hebrew. This is being translated to English and Spanish and will be made available shortly.
A Telemedicine Platform to be offered to Jewish Communities. (Thanks to the generosity of HI board member Dr. Shai Misan from Italy) https://www.salubermd.com/
Opportunities for generous donors to support Hadassah and make a difference. Together
A list of HMO needs to fight COVID-19 is now available. Please donate or contact us for more information.
Your gift will be matched. A very generous supporter is providing a matching gift of up to $3.75M.
A major Hadassah International Israel/Hadassah Medical Organization crowd-funding campaign will be launched in Israel.
Our Evangelical supporters around the world are being asked to help.
For the latest Updates on COVID-19:
A Hadassah International COVID19-Crisis Website with all the latest crisis information has been created. 
The Hadassah International Facebook page is being continuously updated: @hadassahinternational
The new Hadassah International Instagram account provides the latest stories: #hadassah_international
The Hadassah International website (hadassahinternational.org) is being updated regularly with links to the Crisis website and activities.
A special Hadassah International COVID-19 Crisis Newsletter is being sent out regularly. Please sign up to receive our Newsletter.
When you donate to Hadassah, you save lives in Jerusalem and around the world.
TOGETHER WE LIVE