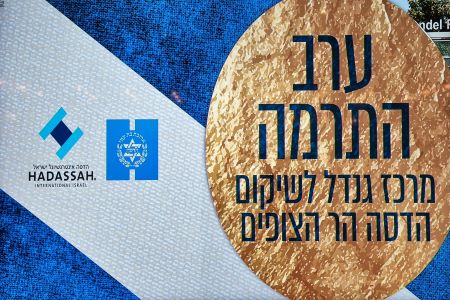 The elegant Hadassah Gala held in Israel to raise money for the much-needed Gandel Rehabilitation Center currently under construction at Hadassah Medical Center on Mount Scopus in Jerusalem was spectacular success!
It was an opportunity for over 500 Israelis to put on their party clothes and come together for an evening of music and fun while making a donation to ensure that the national priority of a state-of-the-art innovative sophisticated rehabilitation center for Jerusalem would open at the end of 2023.
Organized by Hadassah International Israel and Hadassah Medical Center, the Gala was held on September 12, 2022 at the Zappa Midtown Tel Aviv complex. It was hosted by Dalia Itzik, Chairperson of the Hadassah Board of Directors; Moshe Levy, an Israeli hero, and recently appointed Chairperson of Hadassah International Israel; Prof. Yoram Weiss, Director General of the Hadassah Medical Center; and Rael Goodman, Executive Director of Hadassah International Israel.
The Gala raised at least NIS 5 million, thanks to enthusiastic support from large contributors including Rami Levy, Hashikma Marketing Ltd., Mega Or Holdings Ltd., Zappa, Fox Group, Golan Basalt Winery, Ronit Raphael Beauty Science, Zol U'begadol, Discount Bank, First International Bank, Yedidya Leventhal & Co., Lenovo Israel, Naimi Group, Sagol Family and Bank Hapoalim. Adina Levy, wife of Rami Levy even came up onto the stage to pledge her support and asked other donors to join her in making a large contribution to this worthy cause.
Dalia Itzik and Moshe Levy extolled the Hadassah Medical Center's staff and management for the long-term, professional, determined rehabilitation treatment patients receive at Hadassah. Hadassah's outstanding medical success is due to a multi-disciplinary team of medical and para-medical professionals who put their heart and soul into treating, directing, and motivating their patients. The new rehabilitation center will now provide them with the world's most advanced rehabilitation technologies, healing gardens, therapeutic pools, clinics, and upgraded hospitalization rooms to facilitate their work.
Attendees enjoyed the opportunity to mingle with top Hadassah medical experts, and to be entertained by well-known singer Tamir Greenberg. Tamir even brought the famous songstress Valerie Hamati on stage with him to sing for the audience. Many invitees were observed singing along with Tamir's performance.
A great time was had by all, and the thousands of patients that will be served by the new Gandel Rehabilitation Center will benefit from the generous gifts to Hadassah made by the Gala attendees.