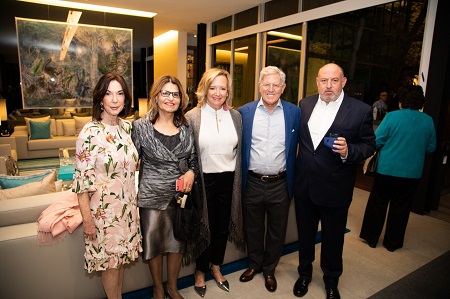 Hadassah International Raises $9M for
Rehabilitation Center at Mount Scopus Hospital
MIAMI, FL, December 4, 2019 – Hadassah International brought together donors and supporters from three continents to an electrifying evening which raised $9M in donations for Hadassah Medical Organization's two world-class research hospitals in Jerusalem. The gala, held on December 2nd in the spectacular Miami residence of Joey and Lindsay Schottenstein, was Hadassah International's first fundraising event in Miami.
The donations are earmarked for the much-needed new Rehabilitation Center at Hadassah Hospital Mount Scopus in Jerusalem. The facility, featuring state-of-the-art equipment such as the Lokomat, Israel's most sophisticated robotic treadmill gait therapy machine, and healing water therapy pools, will provide cutting-edge rehabilitation for members of the Israel Defense Forces (IDF) and Jerusalem's rapidly-growing population.
The evening's co-host Lindsay Schottenstein set the tone for the evening by quoting from the Psalms of David: "'The stone that the builders rejected because it was damaged became a cornerstone.' Thanks to HMO's Rehabilitation Unit at Mount Scopus, the broken men and women of the IDF will become the cornerstones of new and productive lives."
Former IDF Navy Seal Nir Caspi spoke about being badly injured during a special operation in Lebanon and being transferred to Hadassah Hospital Ein Kerem.
Caspi galvanized the audience with his life-changing moment: "When you arrive at Hadassah Hospital hanging between life and death, you are dependent on the immediate and crucial response of the medical trauma team. Once you open your eyes and you realize that you are not the same person, not able to move or have lost an arm or leg, a successful rehabilitation becomes your lifeline and only hope. Hadassah gave me hope and the recovery I needed to return to active service and enjoy a busy, engaged life." Today, Caspi is a successful entrepreneur and co-founder of Café Landwehr, a chain of coffeehouses in Israel.
Award-winning Israeli actor Tomer Kapun from the wildly-popular Israeli TV series "Fauda," provided thrilling testimony about his own experience as a paratrooper in the IDF.
Mayor of Jerusalem Moshe Lion heartily thanked the audience for attending, stating: "This rehabilitation center will serve the residents of Jerusalem, regardless of religion, race or gender, a population of over one million people. I am also proud of the work in healthcare and the spreading of Zionism by Hadassah."
Former Knesset Speaker and Chair, Hadassah International Israel Dalia Itzik enthused, "I am proud to be a partner in the establishment of this lifesaving center — one of the most impactful and vital institutions in Jerusalem — a rehabilitation center for all Israelis as well as IDF soldiers. In the near future, anyone who needs the best medical care in the world will be able to receive it in Jerusalem, the capital of the State of Israel." Itzik also thanked Jay and Jeanie Schottenstein and Nily Falic, Chairman Emeritus of the Friends of the Israel Defense Forces (IDF), for their support of the evening.
Hadassah's Mount Scopus Hospital Director Dr. Tamar Elram proudly proclaimed: "This unprecedented event serves as the launch of the exciting campaign to raise funds for our new, expanded rehabilitation center. This is the first of many steps towards the extension and renewal of the historic Hadassah Hospital Mount Scopus campus, committed to serving the population of Jerusalem and providing the excellent healthcare they deserve.
 Hadassah Medical Organization (HMO) Director General Zeev Rotstein profusely commended the audience for opening their hearts and wallets and becoming true partners of Hadassah. "You are ensuring that the residents of Jerusalem and its surrounding areas will receive the highest quality and most-advanced rehabilitative care. This new Rehabilitation Center at Mount Scopus Hospital embodies HMO's mission to use medicine as a bridge of healing, unity, and peace."
Rafael Zaga, Hadassah International Board Director, enthusiastically exclaimed, "Tonight, the Latin American delegation of Hadassah International and I witnessed the magnificent heart and soul of Hadassah and its amazing ability to use healing to transform the world."
Ellen Hershkin, President, Hadassah, the Women's Zionist Organization of America, Inc., (HWZOA) and Chairman of the Board of Hadassah International, celebrated the extraordinary achievements of the evening: "Tonight, we are proud to show that Hadassah and Hadassah International, by working together, have the power to heal our world. Thanks to our many generous donors from Israel, Mexico, Argentina, Brazil and the U.S., HMO's ground-breaking medical research and treatment have had a world-wide impact over the past several decades. As we forge ahead in the 21st century, the global partnership of Hadassah, Hadassah International, and HMO will work closely to continue their mission to provide for the health, safety, and well-being of the land and people of Israel."
In the picture, from Left to Right:
Sara Aronson – Hadassah 360 Degrees of Healing Campaign Chair – New England
Dalia Itzik – Former Knesset Speaker, Former Interim President of Israel, Hadassah International Israel Chair
Jeanie and Jay Schottenstein – HI donors, American Eagle Outfitters, Retail Ventures, Inc. (RVI)
Harel Wiesel – Israeli retail magnate Harel Wiesel, CEO, Fox-Wizel, Ltd
About Hadassah International
Founded in 1983, Hadassah International (HI) united people of all faiths and nationalities in the mission to improve lives around the globe through their financial support of the pioneering medical healing, teaching, and research at Hadassah Medical Organization in Jerusalem. Hadassah International spans five continents and is made up of volunteer men and women who believe that advancement and cooperation in medicine transcend politics, religion, and national boundaries. The universal language of medicine allows Hadassah International to build bridges between nations and help to establish research and clinical ventures between Hadassah Medical Organization and medical institutions around the world.
MEDIA INQUIRIES:
Contact: Renee Young
Hadassah National Public Relations
ryoung@hadassah.org
+1 212.303.8140