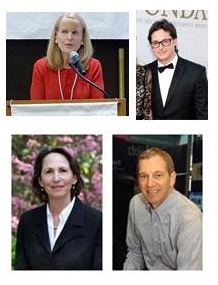 Hadassah International is proud of the volunteers from around the world who step up to lead Hadassah. Hadassah leadership is dedicated to ensuring the future of the Hadassah Medical Organizations and to building bridges to peace.
Our new leaders are:
Ellen Hershkin, President Elect of Hadassah, The Women's Zionist Organization of America. The new national president is the organization's 26th in its 103rd year.
Ellen takes over from current President Marcie Natan in January 2016. She will lead the 300,000-member organization in the US and Hadassah International supporters around the world,  as well as overseeing Hadassah's renowned efforts in the areas of groundbreaking medical research and, support for Israel.
Fabio Wajngarten, of Sao Paulo, Brazil, has joined the Hadassah International Board of Directors.
Fabio owns his own media research company in Brazil, a highly innovative enterprise that measured advertisers expenditures, branded content and merchandising on TV. He arranged for Jewish leaders to meet with one of the most influential broadcasters that showed sympathy and good will towards Israel, resulting in their positive promotion of Israel.
Sally Oren, President of Hadassah International Israel, and Rick Kaplan, Chair of the Hadassah International Board of Trustees.
Sally comes from the world of Philanthropy with many years of involvement with "Taglit", " Bat Sheva", "Israaid" and the Hadassah Joy Pollin Cardio Vascular Institute at Hadassah. As Sally's husband is the former Israeli Ambassador to the U.S.
Rick Kaplan is one of the leading large company managers in Israel. As the CEO of IBM Israel, Rick brings his vast global business experience to the HII BOT, and is willing to assist Hadassah in Business Development.