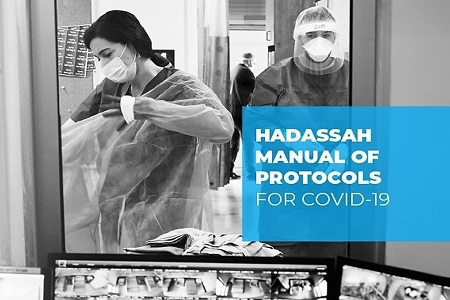 Introducing a new chapter: "Long-term hospital management in the presence of COVID-19: A practical perspective."
The Hadassah Medical Organization (HMO) in Jerusalem has been at the forefront of fighting the SARS-CoV-2 coronavirus from the beginning of the pandemic.
Drawing on our successful experience with managing the disease, HMO has developed the Hadassah Manual of Protocols for COVID-19, describing best practices for treating patients. This collection of guidelines and protocols was put together in the belief that sharing the experience gained over the past few months by Hadassah's dedicated medical staff can be of great benefit to our colleagues in many parts of the world.
An updated 3rd edition of this manual has now been issued that incorporates a chapter about the "Long-term hospital management in the presence of COVID-19: A practical perspective."
This latest information is based on a recent paper entitled Long-term hospital management in the presence of COVID-19: A practical perspective, published in the prestigious Journal of Hospital Administration on June 18, 2020. It was authored by the General Management of Hadassah-Hebrew University Medical Center in Jerusalem, consisting of Prof. Yoram G. Weiss, Dr. Inon Buda, Dr. Rechel Alon, Yuval Adar, Bruno Lavi, and Prof. Zeev Rotstein. This publication is the first of its kind.
The Hadassah Manual presents the outline of an action plan for a hospital system that needs to deal with the problems and challenges of caring for regular patients (some of them high-risk patients for SARS-CoV-2 infection) while caring in parallel for a low to a moderate number of COVID-19 infected patients.
The Manual addresses the changes that need to be made by hospital management to prevent disruption of key services due to the COVID-19 outbreak, while maintaining high-quality care to all patients, and ensuring the highest standards of staff and patient safety. The topics covered include the importance of knowing the prevalence of Covid-19 in surrounding communities; hospital infrastructure re-organization; financial aspects that the hospital needs to face; and the role of technology.
The Manual is available in English, Spanish, and Russian. Those interested in obtaining the manual should contact Hadassah International at the following email address: togetherwelive@hadassah.org or by filling out the following online form.
We hope that this Manual will provide valuable information for hospital and care center management as well as doctors and nurses in other affected parts of the world. This pandemic is a common challenge faced by all of us in the age of globalization.
Hadassah is assisting the global network of hospitals and communities fighting COVID-19 and providing critical help to save lives.
For more information about the Hadassah International crisis response TOGETHER WE LIVE, please go to https://hadassah-global-response.org/.