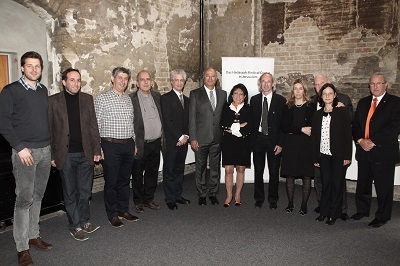 As academic institutions, the Hadassah University Medical Center and Charité   University Hospital have agreed to work closely on the advancement of teaching and research. With the emphasis on pediatrics and the neurosciences, the hospitals will work to strengthen and intensify scientific contacts in order to "build a healthy world together."
Research exchanges among doctors, scientists, and students in both partner facilities (Berlin and Jerusalem) are being planned. Joint research projects will be developed and, in the future, new health topics will be included.
Prof. Dr. Anette Grünters Kielisch, Dean of the Charité, stated that she is very proud and happy to work with the Hadassah Medical Center and to link the manifold capacities and skills of the two facilities. "Together we can react much faster to medical challenges."
Representatives from each institution participated in joint talks to define 10 projects in the fields of pediatrics and neuroscience on which they can collaborate. These projects will be announced in the near future.
The concept for this initiative came from Gady Gronich, Senior Director of Hadassah Germany, who with the help and leadership of Prof. Eitan Kerem, head of Hadassah's Division of Pediatrics, and his colleagues (Dr. Arzy Shahar, Prof. Benjamin Bar-Oz, Prof. Tamir Ben Hur, Prof. Dan Engelhard, Dr. Netta Levin, Dr. Adi Vaknin, and Dr. David Zangen) made this project possible.
Regine Sixt from the Sixt car rental and leasing company, provided considerable support for the project. Ms. Sixt sponsored this special event together with Teva Pharmaceuticals.