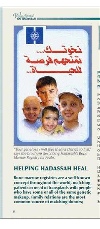 Until the Hadassah Medical Center launched its campaign in October 2008 to reach potential Arab bone marrow donors and explain the urgency to enroll more people of their ethnicity in its bone marrow registry, only 200 of the more than 60,000 people in Hadassah's database were from the Arab community. Today, relates Dr. Amal Bishara, head of the project, "there are 2,920 Arab donors in the registry and some have already been good matches for patients!"
Patients in need of transplants must be matched with donors who have some or, preferably, all of the same genetic makeup. Family relations are the most common match; people with similar ethnic backgrounds rank next.
In an abstract presented at the 2008 conference of the World Marrow Donor Association, Dr. Shoshana Israel, head of Hadassah's Tissue Typing and Immunogenetics Unit, and her colleagues, Prof. Chaim Brautbar, former head of the department, and Dr. Bishara, reported the lack of an international registry for Arabs and cited the need for donor registries for Arab communities in Israel and around the world.
Hadassah's outreach to the Arab communities in Israel aims to remedy the situation. Along with distribution of an Arab-language brochure which explains the urgent need for donors and what is involved in registering as a potential donor, Hadassah is presenting workshops and lectures and holding drives to recruit people in three hospitals in Nazareth, at the Hebrew University-Hadassah Medical School, in Arab towns around Israel, and in the Palestinian Authority. As Dr. Bishara notes, the campaign is far from over because "there are 12 million potential donors in the world."
"Your generosity will give them a chance to live," announces the brochure disseminated throughout Israel's Arab communities to explain the Hadassah Medical Center's Bone Marrow Registry outreach to the Arab population.
Hadassah Austria has provided major support for this outreach.