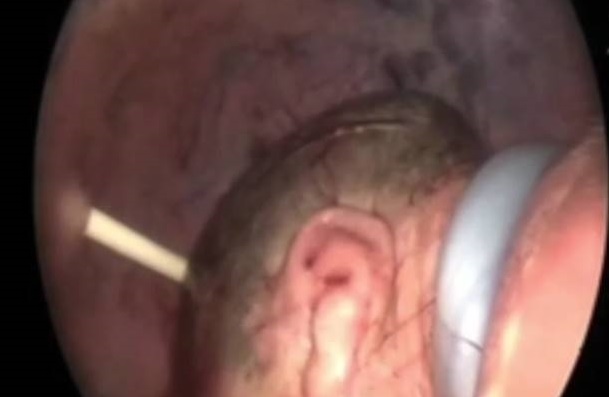 Hadassah's Fetal Medicine Specialist is one of only three doctors worldwide
using new spina bifida in utero surgery technique.
History was made at Hadassah Ein Kerem Hospital in Jerusalem on Thursday, February 9 when a team of Israeli surgeons successfully operated on a 5-month-old fetus using a new procedure that only three doctors in the world can perform, to alleviate some of the crippling effects of spina bifida. The operation was performed by Hadassah's Fetal Medicine Specialist, Dr. Yuval Gielchinsky under the supervision of Dr. Denise Pedreira, the Brazilian obstetrician who invented the technique.  Dr. Pedreira confirms, "This is the first time this procedure has been performed outside Brazil using this technique."
Spina bifida is a birth defect in which part of the fetus' spine is open and the nerves are exposed to damage from the amniotic fluid.  This condition may mean the child has difficulty walking or is completely disabled. Approximately 4.7 million people worldwide live with spina bifida.  Singer John Coogar Mellencamp and former NBC White House chief correspondent Judy Woodruff have spina bifida.
Dr. Gielchinsky, who had previously studied in Brazil with Dr. Pedreira, notes "The challenge for this type of surgery is that when you are working on the spine, the infant can bleed and even one drop of blood discolors the normally clear amniotic fluid and you can't see what you are doing."  Dr Pedreira's solution to this risk was to empty out all the amniotic fluid and then inflate the womb with carbon dioxide. The surgery took six hours, with ten physicians and four nurses assisting.