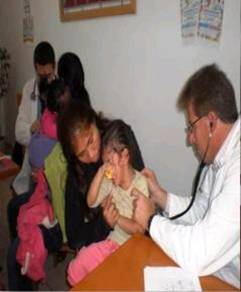 Embracing the idea of two Boston pediatric specialists who are spending their sabbatical at Hadassah Hospital-Mount Scopus, Hadassah reached out to Philippine workers living in Israel to offer them free vaccinations for their children.
Dr. Sigmund Kharasch, a pediatric emergency room physician, and his wife, Dr. Virginia Sison-Kharasch, a pediatric pulmonologist, discovered that these children were not covered for vaccinations by the National Health Plan. They had learned about this dilemma after speaking with HE Petronilla Garcia, an old high-school friend of Dr. Sison-Kharasch, who was now serving as Ambassador to Israel from the Philippines.
When the physicians approached Prof. Eitan Kerem, head of the Department of Pediatrics at Hadassah-Mount Scopus, he was eager to help. Working together with Ambassador Garcia, Prof. Kerem and the other physicians organized a day of free medical check-ups and flu vaccinations for the children at the Philippine Embassy in Tel Aviv.
"As a society, we need to thank the Philippine community in Israel for the wonderful work they do," Prof. Kerem said. "Their dedication and devotion to our elderly and disabled is well known. This was our small way of showing them how we appreciate their contribution to our country."
Despite the stormy December day, 40 families braved the rain and wind to come to the Embassy. Staff and officials of the embassy and their spouses assisted the four Hadassah pediatricians and Hadassah medical clown. Those with medical training took the children's history and helped the parents fill out the necessary paperwork. Then Dr. Sigmund Kharasch, Dr. Virginia Sison-Kharasch, Dr. Alex Gileles-Hillel, and Dr. Ibrahim Omari — all from Hadassah-Mount Scopus — examined and inoculated the children, while one of Hadassah's "Dream Doctors," as the medical clowns are known, helped the children overcome their fear of needles. During the examinations, the doctors discovered that several children had conditions that required further medical care, and referred them to local doctors.
Hadassah now plans to extend this outreach to children in Jerusalem, Haifa, and Beersheva. "We believe that children who live in our country have a right to basic medical care — and our doctors are setting out to provide it," says Prof. Kerem. Prof. Shlomo Mor-Yosef, Director General of the Hadassah Medical Center, adds: "The Hadassah pediatricians who lent their support and volunteered for this effort represent all we believe in, all we stand for."